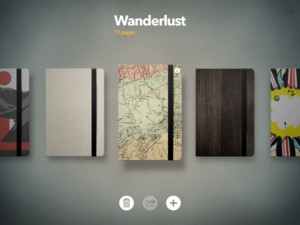 Though it may not seem like it, since you know me from tech blogging, I am an artist. I've been creating art for my own pleasure and for others for years. So naturally, when I gained access to an iPad and it's incredibly sensitive touch screen technology, the first thing I wanted to do was find an app that would let me use it to create art. After some hunting through the app store, I finally came upon Paper. As it was free, I figured I had nothing to lose and downloaded it.
Paper is an artist's library in a single app. It allows you to create and maintain many different "sketchbooks," to switch between them with intuitive pinch and swipe controls that move along your bookshelf, open individual journals or sketchbooks, page through them, or zoom in on a 2 page span in order to actually create.
With the free download, the only tool you have access to is the fountain pen – but that is more than enough to show me how invaluable this app is to an artist. I can keep things organized, sketch anything I need to, and then move between sketchbooks with the flick of a couple of fingers. The app responds just as well to a stylus as to fingers, so if you want a more "realistic" drawing experience, I definitely suggest using a stylus. However, who doesn't occasionally like the feeling of "fingerpainting?"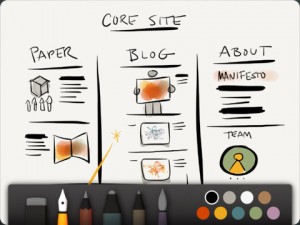 The limitations on the free app are the tools. You have the aforementioned fountain pen, and an eraser. Simple enough – but Paper has a surprise. If you rest your finger in the middle of the screen and slowly make a counterclockwise circle, it will "rewind" your current page, effectively slowly undoing the last few things you've done. Much better than using the eraser where you might miss a line and the rewind function gives you a clean canvas to work on at the spin of a fingertip. Personally speaking, I was excited by this, and knew by now that I wanted more. So I downloaded the $6.99 "Essentials" pack.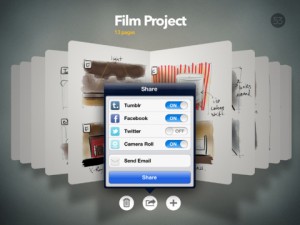 The Essentials pack gives you access to the other tools. In addition to the fountain pen and eraser, you get access to a colored pencil tool, a marker tool (great for blending colors), a smudging tool, and (my favorite) a watercolor brush. Alternatively, if you only want one or two of the other tools, you can download them individually for $1.99 each, but buying the Essentials pack saves you $0.99.
When in journal view, there's a convenient button in the middle at the bottom of the screen that will allow you to share your current journal, sending all the pictures within it to a specified email, or even straight to your Facebook photo gallery, if that's where you want it to go.  Alternatively, should you decide you don't want a particular journal anymore, you can hit the trash can icon to delete the currently selected journal. Or if you want to make a brand new one, you just click the plus, choose your journal cover (and there are quite a few pretty options to choose from), give it a name, and you have a brand new journal ready to go.
For any artist who would rather carry an iPad than a pile of sketchbooks (and let's face it – that's all of us), Paper is a wonderful app. While it doesn't have the versatility of some other art apps, it does it's job of replacing the classic artist's sketchbook very well. And the best part is (unless you're using a stylus), you never have to worry about misplacing your tools.
Price: FREE (Extra content purchasable in-app ranging from $1.99 to $6.99)
Version reviewed: 1.1.0
Requires iOS 5.0 or later.
Download size: 44.4 MB
Related Posts