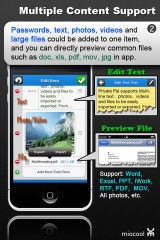 Private Pal is not your typical app for securing your photos and videos. The developer has gone out of his way to create a powerful security app that will not only protect your media, but also keep items such as passwords, messages, bank cards, web accounts, files, and more secure.
Once your information is entered, Private Pal has a search feature for quickly finding the information you need, as well as a favorites and "most recent" tab for an excellent user experience. It is worth noting that the app is not only password protected by any password of your choosing, but each individual item added can have its own password for double the security.
When it comes to apps in this genre, you usually get the standard four-digit passcode and a file structure with typical iOS features. Private Pal sails a different path with a vibrant and unique user interface. I literally have never seen anything that looks like this on the App Store. If you have been looking for a secure app for awhile and are tired of the same old ones, download this one and never look back. It is clear that the developer put a lot of time into creating Private Pal.
Price: $2.99
Requires: iPhone/iPod Touch/iPad; iOS 4.1 and up

Download size: 7.9 MB
Private Pal – Versatile Safe and Document Organizer on iTunes
Related Posts