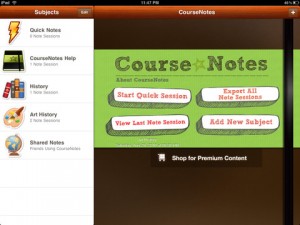 CourseNotes is a great application for typing and keeping your notes during class. CourseNotes is perfect for students who are looking for an alternative to traditional pencil and paper. The interface is clean and simple so it doesn't distract you from your class. It is a great application that will keep your notes neat and organized. However, this application does have some flaws that may prevent power students from using it.
CourseNotes will take all of your notes and organize them by subject. It allows you to enter multiple formats so your information can be displayed in the best way possible. In addition to basic text entry, you can also add images and PDF files. This will make your notebook much more useful and display the exact type of information you want. There is also an iOS version of this application which allows you to sync your notes from one device to another. This is a huge bonus because students are constantly on the go and may not always have his or her computer with them. It also offers the ability to easily share your notes by printing them or exporting them as an HTML file and emailing them to a friend or fellow classmate. In addition, you can keep a running list of assignments and to-dos that can also be organized according to subject.
There are several simple features that this application is missing. CourseNotes does not offer enough places to enter class information. While you can enter the professor name and his or her website, you cannot enter in the office hours or even the times that the class meets. Also, there are only 3 font sizes — small, medium, and large. If a student wants to write great, detailed notes, then there must be more font options than this. Overall the power of the text entry is not even up to par with TextEdit, so basic centering and aligning does not exist.
This application is a great start and will undoubtedly be useful for many students. It has a great interface that should fit perfectly into a busy student's life. Its syncing capabilities and photographic features make the application a couple steps ahead of traditional paper and pencil. However, if the application doesn't step up the text entry features, then it will most likely be over-looked by serious students looking for a serious note-taker.
Price: $3.99
Version reviewed: 3.02
Supported OS: OS X 10.6.6 or later
Download size: 5mb
Related Posts