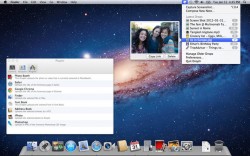 Droplr is an incredibly easy to use program that makes it very easy to share files with anyone you want. All Doplr does is take the file you want, uploads it to their servers, and then spits out a hyperlink that you can then post to Facebook, Twitter, or any other form of social communication. This is slightly different from other sharing services such as Airdrop. You won't literally be sending the file to anyone, as they will be downloading it on their own. Unfortunately, Droplr has some annoying size limits that may be inconvenient to some users.
Droplr will hang out in your top status bar. When you want to share something, simply drag the file to the Droplr icon and it will handle the rest. Droplr gladly excepted any type of file that I threw at it, so there are no file-type incompatibilities here. What was really impressive is that it handled any form of text, whether it be simple text or even lines of code. Once you get familiar with Droplr's keyboard shortcuts, then your life will become much easier. Using these shortcuts, you can upload files from iPhoto, Adress Book, and even Photoshop all by just pressing a button or two. There is also a keyboard shortcut that will automatically take a screenshot of your computer, upload it, and give you a link to it, all without clutering up your computer in any way.
Unfortunately Droplr's size limits can be very annoying. Any simgle file can be no larger than 25mb. This is very constricting because it is quite easy to have a file larger than this. Also, the total amount you are allowed on Droplr's server is 1gb. This is extremely low for a service like this. In addition to the space issues, I find sharing with specific contacts to be rather inconvenient. The more I send files to people, the more I wish that you could enter favorite contacts or frequently used people. This would help tremendously for those types of files that I always want to send to the same person.
Generally speaking, Droplr is very underwhelming. While the convenience factor is great, it doesn't exactly make up for its shortcomings. There are great features like keyboard integration, but the size limitation unfortunately makes those features simply not worth it. I can't imagine why anybody would use this service when there are terrific services like Dropbox and Google Drive out there with much more storage space. Droplr might have a true winner on its hands if they were to simply upgrade the storage space.
Price: Free
Version reviewed: 3.0.1
Supported OS: OS X 10.6.8 or later
Download size: 5.5mb
Related Posts