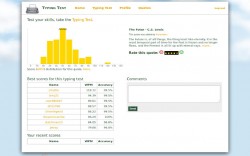 I don't get the concept of an add on that is nothing but a redirect to a website. When I installed Typing Test by KeyHero to my Chrome browser, I was expecting a button with a dropdown that would give me the typing test. Instead, what I got was no button, no extension that showed in my list of extensions, but if I reloaded the Webstore link, I'd find a "launch app" button. Frustrated (this app already pushed one of my major buttons with add-ons  – an add on that gives you no easy way to access it), I clicked the launch button. Imagine my surprise when instead of opening an add on, it opened a website.
Why do I need an add on that functions as a bookmark, but not even as well? That's a high level of frustration for me. If you're nothing but a bookmark, why don't you just give me a link in my bookmarks bar instead of making me install an extension that isn't really an extension?
The typing test itself, found here (see how nice I am? I give you the link rather than telling you to install a non-add-on), is actually fairly comprehensive and nice. It gives you a graph that tracks your speed, and when you're finished, it gives you all sorts of information such as the type of mistakes you made and how many there were, your average speed and accuracy. If you do it more than once and register for their site, you can track your progress in multiple visits and actually use the test in order to become a better typist. It's a very nice typing test. I just don't appreciate the "extension".
Price: Free
Version reviewed: 1.4.0
Requires: Chrome
Typing Test on Chrome Web Store
Related Posts