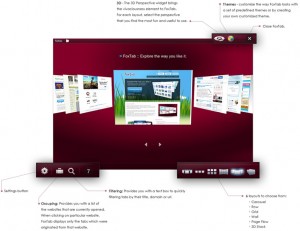 So thanks to you lovely people, I have had my eyes opened to the wonderful world of all the bookmark managing systems that Firefox actually has to offer. So today, I bring you Foxtab.
I really, really like Foxtabs' interface. The settings are easy to understand, and offer you quite a few customization options – from the way your Foxtabs are laid out, to background images, right down to how the website snapshot displays on the Foxtab.
Right clicking on any website will bring up your context menu, which will have "add to Top Sites" at the bottom of the list, and it'll automatically be saved to your new tab screen – the Foxtab display page. This is Opera's Speed Dial on steroids, with many different options for how your Top Sites are laid out – including several 3D views, a carousel, and even a "theater" view that makes you feel like you're sitting at the back of an IMAX, trying to choose what site to visit next.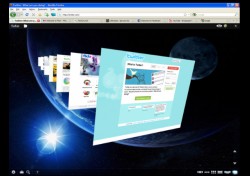 Foxtab also comes with…well, Foxtab. Say you have a lot of sites open all at once. Right click a site and choose "Foxtab" from the options. You'll be brought to a page much like the Top Sites page – except instead of the top sites, it'll be showing you every single tab that you have open. You can arrange them into groups for easier access, move them around, even view them in 3D from one of six angles to pick which one to bring to the forefront next.
I'm going to use Foxtab for awhile, but if anyone else knows more good Speed Dial look-alikes, be sure to pass them my way in the comments! I might just review them in the future!
Price: Free
Version reviewed: 1.4.5
Requires: Firefox
Related Posts