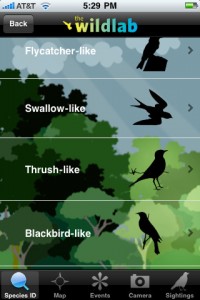 I've always been interested in nature and the outdoors. When I see an animal or a bird, I'd like to know what it is in case I see it again, or in case I want to tell someone what I saw. While I'm not what one would call an "avid birdwatcher," I know a few people who are. One of them recommended this app to me, and I'm now very excited to show it to you. The app is called Wildlab Bird, and it's all you'll need to figure out what's making that noise in your back yard – assuming you can see the bird that's doing it.
With a very simple interface, Wildlab Bird first asks you to sign up for the Wildlab – this is used to report your bird sightings to it's database. There's no spam email, no ads attached to this at all… Wildlab is a non-profit. If you don't want to register, you can use the app as a "guest"  instead in which case you can't save your sightings and no data will be reported to Wildlab.
The app works by accessing your GPS to know where you are so that it's suggestions make sense, using the data Wildlab has collected from many users over the years. First, you choose the environment you're in – it suggests environments to you based on the GPS location. In my location I had the choice of Woodland, Grassland, Coastal, and Wetland. A user in, say, Arizona would probably have Coastal replaced with Desert, and so on. Tapping one of those environments will bring up a list of "likes," with outlines of the basic shape of the bird. You scroll through and find an outline that most resembles the bird you're looking for, then it will slide to a window with the individual birds in your area that match that description.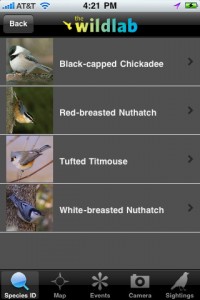 On an individual bird's page you can see its picture, hear it's call, see it's range (summer, winter, breeding, and migration are color coded), and note how many you see of that particular bird. Clicking the green Submit button will share the sighting information to Wildlab; alternatively you can share your sighting on Facebook, and even take notes about when and where you saw the particular bird. A quick tap will bring up the iPad's camera, allowing you to snap a photo of the bird you're looking at and submit that along with your sighting information if you choose.
The app keeps track of your sightings (assuming you're signed in to Wildlab), and you can revisit them any time with the sightings button.
The only annoying part of this app is that its size is designed for the iPhone, so while it works on iPad just fine, the pictures can get a little blurry in 2x mode so that it fills the iPad screen. But it still does it's job and runs just fine. If you like birds, or just want to figure out what's screaming outside your kid's treehouse, this is a great app for you.
For those wondering, the cawing monster in my front yard wasn't a raven – it was a crow. And that wide spread-winged shadow soaring over the freeway was no hawk – it was a turkey vulture.
Price: Free
Version reviewed: 1.7.0
Requires iOS 3.1.3 or later
Download size: 38.3 MB
Wildlab Bird on Apple App Store
Related Posts