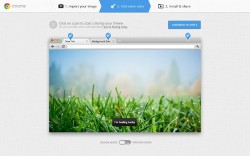 I love personalization. When I sign up for a new service or a new site I waste no time filling out the profile and making it my own. Back when I used Firefox regularly, I was always on the lookout for themes that made my browser say "me!" in neon letters. Since I've switched primarily to Chrome, I haven't felt such a driving personalization need. And then I found My Chrome Theme.
Basically what My Chrome Theme does is it allows you to customize the look of your Chrome browser window.
My Chrome Theme puts a button in the extensions area of your new tab page (the blank page when you create a new tab, if you have that enabled – if not, I'm not sure where it goes; when I disabled that feature, I couldn't find the app). When you click the button, it opens a new tab to run the app. First, you import your own image to serve as the background of the new tab window, and the color pallet for any further customization. You then adjust it's position in the mock window it gives you, either to fit to the screen, to fill the screen, to tile, or to be customized by stretching it however you wish. Preview mode will let you see how it will look with your new tab options on top of it.
The next step is to change the color of your focused tab, your background tab, and the surrounding edge of the screen. Trying to pick colors from their limited pallet to match your picture can be a bit difficult. I wish they gave you a "dropper" to pick colors out of your picture to use. But since they don't, try to get as close as possible for visual sake.
It's worthwhile to note that if you use a Speed Dial add on (which we all know I'm quite fond of), the image on your new tab window won't actually change. You'll have to customize that add-on separately in order for it to match your new color-themed Chrome. But when you're finished, you'll have a nice, color-coordinated theme that you can even share with others via Facebook if you want.
My Chrome Theme is a fun customization tool for Chrome, and so easy to use I think I'll be changing my background every few weeks now that I have it.
Price: Free
Version reviewed: 1.1.0
Requires: Chrome
My Chrome Theme on Chrome Webstore
Related Posts