1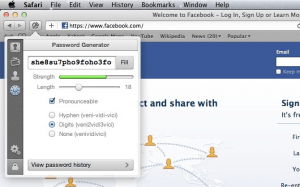 Password is essentially a password vault for your Mac. It will make it so you only have to remember one password for every single service that you use. The way it works is really quite brilliant and is miles ahead of any similar application. 1Password will literally change how view security. Unfortunately, 1Password is extremely expensive and doesn't really offer complete coverage.
1Password works directly with your favorite browser. It creates complicated numerical passwords for each website you are a member of. Then all you do is remember one master password. As a matter of fact, you don't even see the complicated numerical password. 1Password will display an icon in the menu bar or your browser. When you want to log into a website, just click the icon in your browser and enter your master password. This will access your password database, grab the complicated numerical password, and automatically enter it in the field. It will also store your username for fast log ins. In addition, 1Password is able to sync with DropBox and Wifi so you can enjoy all of the benefits on mobiles devices such as iPads and iPhones.
This process is absolutely genius. It is based on the idea of complete security. Let's say you use the same password for every website. If someone were to hack into a website, they would have access to your email address and password. That is a real problem if you just happen to use the same password for your email account. Now the thief can have full access to your email account which can lead to all sorts of trouble. 1Password completely erases this fear. By using a different and complicated password for each website, its mathematically impossible for any hacker to gain access to other services.
The one majhor issue I have with 1Password is that it is priced astronomically high. It is so expensive that you honestly have to think twice about whether or not its worth it. In addition, there are some websites that simply don't work with 1Password. Whether these are for security reasons or not, this is unacceptable for an application that is priced so high.
Generally speaking I think 1Password is truly a brilliant piece of software. However, it is difficult to honestly recommend an application that is so expensive. Especially considering most applications on the Mac App Store are only a quarter of the price. However, if you decide you want to spend the money, and get over the odd compatibility issues, then you will undoubtedly be satisfied with your purchase.
Price: $49.99
Version reviewed: 3.9.6
Supported OS: OS X 10.7 or later, 64-bit processor
Download size: 11mb
Related Posts