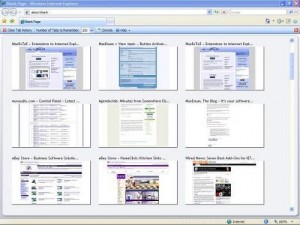 I do a lot of multi-tab browsing in all of my browsers. Sometimes I hold onto a tab until the end of the day so I can really absorb what it has to say, and relax while doing it. But occasionally, I make mistakes. I'm human – I can't help it. But as a result, I've lost quite a few tabs that I would've liked to have back in IE. Other browsers have add-ons that help you recover closed tabs once you've closed them – IE hasn't had such functionality – until now.
Open Last Closed Tab is invaluable for people who like to multitask, are human, and occasionally mess up. There's no browser button for it, but instead it's controlled by keyboard commands. Alt + Q brings up screenshots of recently closed tabs, and allows you to reopen them with a quick click. Alt + T simply reopens the last tab you closed, no matter what it was.
The down side to this add-on is that it doesn't currently function properly in a Windows 7 environment. I had to load it up on my Acer, which is still running XP, in order to test it. On my Windows 7 computer, the shortcuts did nothing, though the add-on claimed to be installed.
So basically, if you accidentally close tabs, and are running on a Windows system below 7, this is an awesome add-on. For people running Windows 7 and soon 8? Well…let's hope they update it soon.
Price: Free
Version reviewed: 4.1
Requires: Internet Explorer, Windows 2000/XP/Vista
Open Last Closed Tab on Download.com
Related Posts