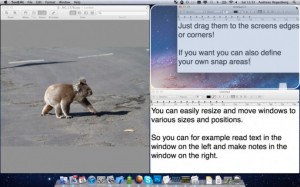 BetterSnapTool is a great application that will help manage your application windows. This app is great for people who are constantly multi-tasking. It really helps when you have to have multiple windows open at the same time. It will be very useful in keeping you from having to switch back and forth between windows, which can really limit your productivity.
What is it and what does it do
Main Functionality
BetterSnapTool will allow you to snap windows to any side of your screen. It will snap them in place so that you can easily interact with the windows without having to switch back and forth between them. It will allow you to snap them to the most convenient places to optimize productivity.
Pros
Easily manages window positions and sizes
Snaps windows to the left, right, or top areas of the screen
Snaps windows to the four corners
Customizable snapping areas
Custom keyboard shortcuts
Supports multi-monitors
Cons
Sometimes too complex for simple actions
Doesn't work with all software
Discussion
BetterSnapTool is a very simple program that allows you to snap windows to the sides of your screen. This makes it very easy to be productive when you're involved with multiple windows. The default snap locations are the top, bottom, left and right areas of your screen, in addition to the four corners of your screen. However, if none of these locations suit you, then you can very easily customize your snapping locations to suite your needs.
You can also use terrific keyboard shortcuts to automate the process more. You can set up shortcuts that will resize the winddows anyway you want them. This is just part of the customization that can occur. There are tons of settings in this application, almost to the point where it can be a little overwhelming. This is where it can very easily turn a simple process into a complicated one. I recommend you become familiar with the app before you start changing the settings.
This app works with most multi-monitor setups. It allows nearly every application to be snapped anywhere on any monitor. Unfortunately this app doesn't work with all applications. For example, I have found that Adobe products cannot snap. This is a huge disadvantage because Photoshop could very easily be a program that you have to multi-task with using other windows.
Conclusion and download link
Generally speaking, this application is nearly perfect. It appears simple on the outside, but can actually get very complicated because of all of the customization settings. The downfalls of this program are nowhere near importent enough to steer people away from this app. This app is incredibly useful and can easily be used by any type of user that ever has to multitask.
Price: $1.99
Version reviewed: 1.3.5
Supported OS: OS X 10.6 or later
Download size: 1mb
BetterSnapTool on Mac App Store
Related Posts