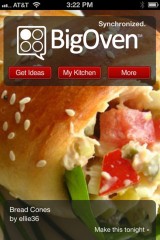 Are you always looking for some new recipes to try? Are you sick of the typical written cookbooks? If so, then give BigOven a try. It is a giant cookbook for your iPhone.
What is it and what does it do
Main Functionality
BigOven is a database of over 250,000 recipes that the user can peruse through.
Pros
All recipes are listed in detail on the phone
Provide a plethora of searching types to find a great recipe
Ability to add your own recipes to the app
Ability to share recipes/photos to social networks
Option to change serving size
Cons
Ad-supported
Many features are limited to members only
Discussion
BigOven is quite an impressive recipe app. Where else can you go to get over a quarter of a million recipes, with corresponding photos and reviews? Though the app can be a little frustrating to use with so many of the options only available to Pro members, it is worth downloading simply for the sheer number of recipes. It is worth noting up front that the app gives you the option of creating a free user account so it can keep track of your favorite recipes.
The main screen user interface is quite unique as it doesn't have the typical iOS feel. There is some type of coupon ad to start, but then it switches to a constantly moving screen of alluring food photos with matching link below to go to the recipe for it. It is definitely an interesting way to handle a start page. The menu buttons are a bit small but display a nice menu that slides down. The touch controls are quick and flow well.
The most impressive part of the app is the search capabilities and categories that BigOven provides. The options range from intriguing recipe collections to recipes created by people in your area to recipes that have gotten recent high ratings. The main search engine allows you to enter any type of foot, for any course, including any type of ingredient(s). So you can literally put in 4 different ingredients you love and BigOven will find you a recipe that includes all of them. The Pro version allows you to refine the search even more by excluding ingredients or prioritizing dietary constraints.
When the search results come back, each recipe includes reviews and ratings (which are readable from within the app), as well as the full ingredients and preparation. There are also options to share the recipe/photos to Facebook, Twitter, or Pinterest. BigOven even provides an option to change the serving size for each recipe, which in turn changes the ingredient measurements automatically. What a great feature!
I like this app, but the frustrating part for many users will be that many of the menu options are for members only. It is okay for an app to have a paid version, but I almost wish the menu options weren't there. Obviously, the developer is just trying to push people towards the paid versions based on some neat features it has, such as ad-removal, grocery list creator, nutritional tools/facts for each recipe, and the ability to add up to 25 recipes.
Conclusion and download link
BigOven is a handy app for anyone looking for recipe ideas. The searching capabilities are excellent for finding exactly the type of food that you want/like. I would suggest checking out BigOven and then seeing if the premium membership is worth the money. Feel free to comment if it is.
Price: Free

Requires: iPhone/iPod Touch/iPad; iOS 4.2 and up

Download size:8.2 MB

250,000+ Recipes and Grocery List – BigOven on iTunes
Related Posts