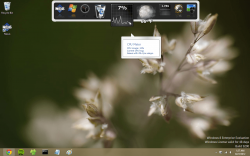 Handy as Windows 7's taskbar may be for launching all of your favorite apps and programs, it's still not perfect. There's still no official way, after three years, to dock specific files on your taskbar–only programs, and within their jumplists, files. Winstep Nexus is a beautiful dock that, along with allowing you to pin files and programs, also brings widgets, including the weather and a CPU widget, to your screen.
What is it and what does it do
Winstep Nexus is a docking program that brings not only apps and files but widgets to your desktop. You can have the weather, your computer's stats, your bandwidth usage, and all of your favorite apps and files positioned right at the top–or bottom, or sides–of your screen.
Pros
CPU/RAM meters handily placed in your dock, plus many more other widgets
Launch apps and open files
Get an instant five-day forecast
Themeable to match any setup
Cons
Additional strain on CPU and RAM over using Windows Explorer to open apps/files
Can be awkward to use if you're not used to it
Partial transparency only kinda-sorta works on Windows 8
Winstep Nexus' main attraction is most likely its extensive "module" support. Anyone who's ever used an Android device will be familiar with these as widgets–little graphical or textual icons that can give you the weather, your email, system statistics, and more. Of course, Winstep is a dock, and so you can always pin files and apps onto it.
With Winstep Nexus, you can really go all-out. The developer created this four minute video that shows off something they were able to create:
You'll notice that they don't even need to use Windows Explorer or the task bar at all, as everything they need is pinned safely to their dock.
The free version of Winstep Nexus is missing quite a few features, however. In the full version, which costs $24.95, you can add additional docks, allowing you to do things like categorize widgets, apps, and files into nice-looking docks on all sides of your screen. You can also use "Shelf Tabs" to replace your desktop, and view your running apps, all from your dock.
Conclusion and download link
Winstep Nexus is a great, well-rounded dock program. It's got everything you could want from such a program, and more, including widgets that check your email, give you the weather forecast, the time, and much, much more. Though some people would much rather stick with the traditional desktop/taskbar/desktop widgets setup that Windows comes with, Winstep Nexus is a great way to combine all of that into one easy to manage place.
Price: Free with $24.95 upgrade
Version reviewed: v12.2
Supported OS: Windows 2000+
Download size: 31MB
VirusTotal malware scan results: 0/41
Portability: Requires installation
Related Posts