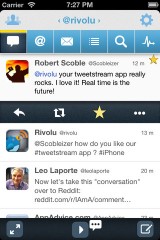 Are you a serious Twitter user? Do you find that most apps are just too slow in updating your timeline? If so, then give #TweetStream for Twitter and its real-time streaming a try.
What is it and what does it do
Main Functionality
#TweetStream for Twitter provides many of the typical features that Twitter clients do, but instead of updating at a set interval and hiding the tweets from sight, the app updates in real-time and throws them right into your view.
Pros
Get your tweets the second they happen
Includes a play/pause button to slow down tweets
Includes a bookmark to mark the spot where you left off reading
Quick switching between multiple accounts
Can send tweet to Pocket
Syncs with TweetMarker service (if you choose) to automatically bookmark
A lot of other features that most Twitter clients have…
Cons
Rapid succession of tweets can be overwhelming for some
Discussion
From a developer's point of view, trying to bring attention to a Twitter client app is not an easy task. You are not only competing with the built-in iOS client, but also a large number of apps on the App Market, some of which are incredibly well done. The developers of #TweetStream for Twitter did exactly that by hanging their app on the concept of real-time updates. Since Twitter apps can be very similar in features, I am not going to cover the overlap, but I will say that #TweetStream is packed with features. Tweetbot is my go-t0 Twitter app and I'm not sure any app will ever do better, but #TweetStream remarkably has many of the same features and is somewhat similar in design.
Since it is hard to explain exactly the experience of using the app, I will share with you my thoughts when I started using it. I am a big hockey fan. Every year there are two dates of importance that turn Twitter upside down, and that is the trade deadline (during the season) and the day of free agency (after the season). I follow all the top NHL guys, so as players are traded or signed, they post it right away, so as you can imagine, news or just commentary comes at you quite fast. When using other apps prior to this, I often just wanted the news to come faster, so I could get it as it happened, not a few minutes later. And if you are a big retweeter of news, then you know what I mean. That scenario is exactly what #TweetSteam is for, a complete bombardment of news in real-time.
Please realize that this isn't going to be for everybody. I personally was overwhelmed when I went to the last tab and saw a real-time feed of certain hash-tagged keywords that you can enter into the app. It is really difficult to read the tweet before the next one comes in, but if you are very interested in the topic, you start to adjust. I personally can't wait to test this out on one of the hockey dates, but there is unfortunately a little thing called a lockout occurring right now.
For the folks who think #TweetStream might be too much for them, you might want to hear about what the app does to make things easier for the average user. It includes a play/pause button that will stop the real-time updates temporarily so you can catch up. There is also a convenient bookmarking feature that will mark where you left off reading in your timeline. Even further than that, #TweetStream supports TweetMarker, which is shared service of many Twitter clients and syncs you reading spot between all of them. This is very convenient if you use a couple different clients between your phone and computer.
Conclusion and download link
#TweetStream on Twitter is a well-designed Twitter client that features real-time timeline updates. Though it won't be for everybody, if you find yourself craving posts on a topic without refreshing, this is definitely an app to use. The updates are very fast!
Price: Free

Download size: 3.4 MB

Requires: iPhone/iPod Touch/iPad; iOS 5.0 and up

#TweetStream for Twitter on iTunes
Related Posts