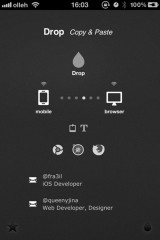 Have you ever been on your phone and thought how helpful it would be to get a link or just plain text from your phone to your computer or vice versa? A new app called Drop – Copy & Paste will help you do just that.
What is it and what does it do
Main Functionality
Drop – Copy & Paste allows you to share links, text, and photos between your iPhone and computer.
Pros
Simple sharing between phone and computer (both ways)
Can share any plain text
Can share photos from phone
No sign-up
Supports Chrome, Safari, Firefox
Cons
Photos can only be imported one at a time
Doesn't currently support Internet Explorer (coming in future update)
No mobile browsers are compatible (coming in future update)
Discussion
Drop – Copy & Paste is a clever lightweight app that will allow you to share your iPhone and computer clipboards. So you literally can copy something on your iPhone, paste it into this app, and it will appear on your computer. The same process works in the opposite direction as well. You probably have used email or possibly Evernote to do something like this before, but I find the process much easier in this app.
When you enter the app, you will see the IP address on the top of the screen that you will need to enter into your compatible browser (see above). Once the screen loads, you will see the same exact tear drop looking shape with a black background. Literally anything you copy or load in either tear drop, will instantaneously appear in the other device's tear drop. The concept of this is incredible to me and I wonder why there aren't more apps like this. You also have the option of loading your photos to and from your devices, which will avoid having to link to iTunes with a chord like you are used to doing.
Conclusion and download link
Drop – Copy & Paste is a tremendously ingenious app that needs to get more attention from the Apple community. I highly recommend it to anyone who is interesting in sharing text or photos between the computer, though please realize that you can only download one photo at a time.
Price: $1.99

Download size: 1.6 MB

Requires: iPhone/iPod Touch/iPad; iOS 4.3 and up

Related Posts