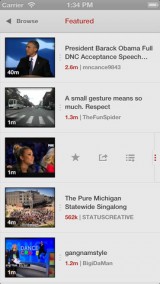 Do you browse YouTube all the time on your iPhone? Do you feel you want more out of your current YouTube client? If so, look no further than Jasmine – YouTube Client.
What is it and what does it do
Main Functionality
Jasmine is a well-designed YouTube client.
Pros
Attractive user interface
Playlist and subscription support
Able to post replies and comments
Night theme for low light conditions
Contains filtering to prevent spam
Cons
A couple issues with crashing
Discussion
Jasmine's main screen contains the option to sign-in, which you can do with any Google account. The app then provides the browsing categories Search, Browse, Favorites, Playlists, Subscriptions, and Recently Played. Choosing Search will immediately show a search box, for which you can enter anything you like. The search results will nicely load with the options to play the video, along with Related Videos, the author's profile, and Comments. You can also add they video to your favorites, add it to a playlist, or share it on Twitter or through email/SMS. If you chose Browse on the main page, you would have a choice of several useful categories: Featured, Trending, Top Rated, Top Favorited, Most Viewed, Most Discussed, and Browse Channels.
Jasmine's user interface is made up of smooth light grey tones that feel warm and cozy. The text on the page is either a darker gray, black, or a red color that perfectly complements the grey tones. You are given a few appearance options, including an impressive night theme for low light conditions. You are also given playback options and the ability to turn off Jasmine's aggressive built-in spam filter.
I thought that Jasmine was quite well done, with the exception of some random crashes. The developer says to uninstall and reinstall again in order to clear this up.
Conclusion and download link
Jasmine is a well-designed YouTube client for you iPhone. Besides a few crashing issues, it provides a much smoother browsing experience than any other YouTube client I have used.
Price: Free

Download size: 6.5 MB

Requires: iPhone/iPod Touch/iPad; iOS 6.0 and up

Jasmine – YouTube Client on iTunes
Related Posts