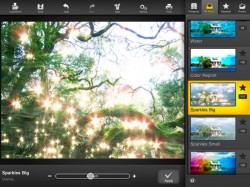 FX Photo Studio is a photo editor designed to make your photos stand out from the crowd. It is designed for peple who might not have the most experience with photo editing, but still want access to professional tools.
What is it and what does it do
Main Functionality
FX Photo Studio is a great application that will make using a wide variety of editing tools incredibly simple. It is designed so that using professional quality tools is easy and logical.
Pros
Logical user interface
173 high quality effects
40 frames
Aperture, Lightroom, iPhoto, and Photoshop integration
Sharing via social networks
Cons
No eye-specific tool
Cannot apply effects to multiple photos at once
Cannot share presets
Discussion
FX Photo Studio is a really terrific application that will allow people who are not so tech savvy to edit their photos to the point of perfection. It uses an incredibly simple and logical interface that allows you to easily navigate the extensive list of effects. This app boasts over 170 different effects along side 40 pre-built frames for your photos. This puts an enormous amount of customization at your disposal.
In addition, this app will integrate with other services quite nicely. It will import and export files directly to and from iPhoto, Aperture, Photoshop, and Lightroom. This is fantastic because you can easily make additional edits to any picture no matter what software you use to organize them. In addition, FX Photo Studio will share your photos through popular social networking sites. This is fantastic because it makes it incredibly easy to share your photos with anyone.
Although this app is really great, there are a couple of small drawbacks. While playing around with the app, the one tool I noticed was missing (or at least I couldn't find) was a tool to fix eyes. I have grown to love a tool like this seeing as red-eye can really ruin a photo. In addition, it would be really nice to be able to apply affects to multiple photos at once. This is incredibly useful if you have a large batch of photos that were all taken with the same flaw. While this app has really good presets, it would be great to be able to share them with your friends and family so that they can use them and produce similar looking photos.
Conclusion and download link
Generally speaking, this app is truly fantastic. It offers a very impressive number of effects that are not found in apps at this price point. The drawbacks I mentioned will certainly provide a nicer experience, but woud just be luxuries at this point. This application is truly the best bang for you back as far as simple photo editors go.
Price: $9.99
Version reviewed: 2.5
Supported OS: OS X 10.6 or later
Download size: 125mb
Related Posts