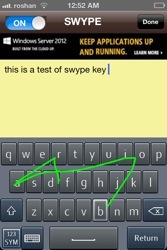 One of the innovative features introduced by Android is the swipe input method. Some love it while some hate it. If you are of the former group, the app Swipe Input Method – Swipe to Type is for you. But after using this app, you might shift to the latter!
What is it and what does it do
Main Functionality
The best way to know what this app does is to see it in action. Grab your friends droid and enable the swipe keyboard or what the heck, just download this app for free to check this feature out. Basically, this is a notes app that uses a new type of keyboard; you input text into the app by swiping from one key to another on the keyboard and the app recognizes the word you want to input based on your swipes.
Pros
The swipe function works
Touch response with the alternate keyboard is good
Text prediction is present
Cons
Free version is ad-supported
Text prediction is pathetic
Ugly design and looks
No integration of swipe keyboard into other apps, such as Notes or Messages app — you must copy + paste text from the app if you want to insert it into another app
No option to mail or save the text you type
Discussion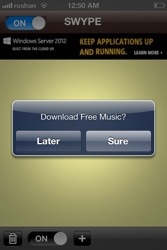 The attempt of this app is, obviously, to reproduce the success of Android's Swype keyboard. However, the app shows an overall disappointing performance in all its aspects. Not only does it lack some features, but it doesn't even do what it advertises itself to do.
The app welcomes you with an ugly plain yellow screen filled with ads. Tap the yellow sheet to start swiping. Initially, the swiping is difficult and seems that the normal typing is faster. But after some practice, you really gain speed. Although the app performs well for simple words, problems begin when dealing with complex words — the text prediction is slow and inaccurate.
Furthermore, Swype Input Method can be considered as an "app supported ad" instead of an "ad supported app". Too many ads popup every time you open the app, along with requests of upgrade. A dedicated unlabelled button for ads is also included. Anyone who accidentally presses the button gets redirected to the ad location. Ugh.
Aside from all that, the biggest drawback to this app is there is no integration with other types of apps. In other words, the swipe keyboard is only available within this app; you must type whatever you want into the app and, if you want to use that text elsewhere, you have to manually copy and paste it. This is due to app communication restrictions in iOS by Apple and we can't blame the dev for that. But, having an e-mail to message function (to pass the content to other apps) is surely possible but is unavailable in this app.
Conclusion and download link
What can I say about this app? Just stay away from it, that is all. If you are accustomed to swipe keyboards in Android and can't live without them, you can check out this app. Or if you are jailbroken, you can try the Swype tweak from Cydia, which is far better. Overall, only go with this app if you are desperate.
Price: Free, Ad-less Pro version for $0.99
Version reviewed: 1.0
Requires: iPhone, iPod Touch, or iPad with iOS 4.0 and up.
Download size: 5.2MB
Swype Input Method on Apple App Store
Related Posts