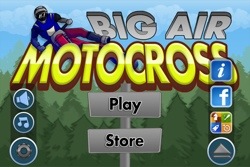 Don't let the word Motocross fool you! This is not a half gigabyte racing game, cruising through the woods and dust. Big Air Motocross is a mini game from Jordan Brown and, mark my words, it's addictive. I took up this app for review and couldn't keep it down for half an hour, until the levels became more challenging.
What is it and what does it do
Main Functionality
There are two simple words to explain the entire app "Tiny Wings". This is one of those Tiny Wings clones which bubbled up like soap water in the App Store. But unlike others, this one is free and reserves its space being unique and more sensible.
Addictive gameplay
No ads despite being free
Purchasing upgrades are not necessary for completing levels
GameCenter integration
Cons
Really hard to play for first time users
Graphics of the app is not up to par (but I have seen even worse Android clones)
Cant share or brag scores on Facebook or Twitter
Full features are unlocked only after purchasing an upgrade.
Discussion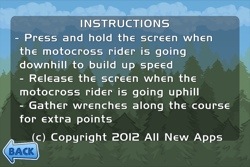 The app welcomes you with a graphically under-average home screen with options to play, purchase, settings, and tutorial. Wait till you select play and start the game — you'll see how the gameplay makes up for the graphics.
The game consists of hills & valleys and the idea is to gain speed in the down slope and to avoid the up slopes by "flying". Pardon me, but this is the best I can describe this game or, in fact, anyone can describe it. Download this app yourself to experience it. However, take note, unless you have played Tiny Wings before, you will have a hard time mastering the game. But once you get the hang of it, there is no stopping you!
As I said earlier, this game makes much more sense than Tiny Wings. Picking up repair kits by a motorcyclist seems acceptable than a bird picking up packets of sunshine. But, I miss the endless run in Tiny Wings. I suggest that the developer adds an endless mode along with the current arcade mode in Big Air Motocross.
Also, although GameCenter integration is awesome, I miss bragging on Facebook!
On the flip side, one thing I really like about the app is that there is no need of any in-app purchase upgrades. You can continue playing the whole 25 levels in a stretch. The in-app purchases mainly include skip levels, extra boosts, new characters, unlock all etc. For example, normally, you have to finish a level to unlock the next level and the in-app purchase unlock removes that.
Conclusion and download link
To conclude, if you loved Tiny Wings or you like quick fix games, check this game out. If you have never played Tiny Wings or similar games, I suggest that you take some time to learn the game style and I assure you that you'll spend Christmas with Big Air Motocross!
Price: Free with optional paid upgrades
Version reviewed: 1.01
Requires iPhone, iPod Touch, or iPad (2x mode) with iOS 4.3 and up
Download size: 12.4 MB
Big Air Motocross on Apple App Store
Related Posts