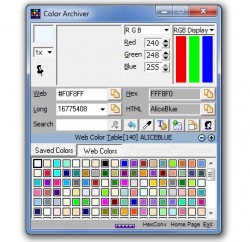 Color Archiver is an application that acts as your color diary. Web developers and graphic artists will definitely find Color Archiver quite useful for what it is able to bring forward on the table.
What is it and what does it do
Main Functionality
Picking, saving, and searching for colors are the main duties of Color Archiver. It is intended to be used by web developers who want a place to save their favorite colors, or to find new colors to work with.
Pros
Many colors to choose from
Supports RGB, HSL, HSV, CMY and CMYK.
Shows color values in web format, hex format, long format, and HTML name
Has extra tools like color dropper, screen element measurement tool, and others to assist in color selection
Cons
Unable to edit color names
Cannot directly carry values from Color Archiver to another program
Discussion
Getting started with Color Archiver is very easy since the application is lite and installs quickly. As a person with experience in webpage design, I found using the program easy to understand and very useful. The feature that many web developer may like is the option to save custom colors within the application, if remembering these colors is a problem.
The support of RGB, HSL, HSV, CMY and CMYK color models are a huge plus, and web developers will be excited about this. Another big feature is the ability to convert between Ascii/Decimal/Hex/Octal, support for saturation, lightness color space, mouse scroll support for all numeric fields, and mouse scroll support for zoom when capturing screen.
The downside of this app is the inability to edit color names when saving. This is a real problem — one that might cause users to go out seeking an alternative to Color Archiver for this very reason alone. Hopefully, in the next update, the developers will take heed to user demands and make it so we can edit color names.
Another drawback is if there comes a day I feel like no longer using Color Archiver, there is no way for me to carry values saved in Color Archiver to another program. Web developers do not take too kindly in not being able to easily move away from one application to the next.
Conclusion and download link
Color Archiver is a tiny utility that does its job very well. However, despite its abilities, the inability to do minor things like editing color names firmly cut Color Archiver from achieving a higher standard.
Price: Free
Version reviewed: 2.3.0
Supported OS: Windows 98 and higher

Download size: 144KB
Virustotal scan results: 0/42
Is it portable? No
Related Posts