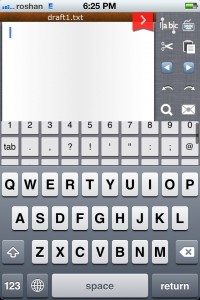 Typing on the small touch keyboards without tactile response has been one of the major issues facing people while shifting from the desktop/laptop era to the new tablet/mobile era. Lots of apps, including the Swype keyboard I reviewed, aim to bridge that gap by enabling users to type as fast as possible. Fast Keyboard – Universal Text Editor promises to do the same.
What is it and what does it do
Main Functionality
This app introduces a new keyboard/layout with a notes app, where the text column gets the least area so that the remaining space can be used up for extra typing features, such as special characters. Hence, there is no need of users to shift the keyboard each time they have to use a special character — ost characters and symbols are one tap away, unlike the default keyboard.
Pros
The layout is odd but handy for practical use.
Supports Dropbox synchronization
Has Facebook, Twitter, and Tumblr integration
Can save and edit different formats of text
Has search and word count features
Can email and SMS/text whatever you type
Ads do not popup while typing
Cons
The text area has been compromised too much for the sake of more features
Finding a desired symbol from the additional (secondary) keyboard is really difficult
Free version is ad supported
Slight learning curve
Discussion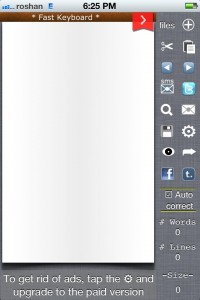 Before we discuss the app, let me clarify that this is not a keyboard replacement app. You see Apple does not allow third-party apps to replace the default iOS keyboard. So the new keyboard introduced by this app can only be used within the app itself — it cannot be used outside Fast Keyboard – Universal Text Editor. The idea is for you to use Fast Keyboard – Universal Text Editor to type whatever you want and then share the text to other apps, such as e-mail, Facebook, messaging, etc. How practical that is? Well that is up to you to decide. This, unfortunately, is an Apple-introduced limitation and nothing can be done unless you jailbreak.
The app introduces a new layout style when typing. The screen is divided into three areas – one for text input, one for the keyboard, and one for tools. The keyboard consists of two more rows than usual, consisting of all the numbers, symbols, etc. (the stuff you would typically need to find in a secondary keyboard) in a scrollable form, and the toolbar helps you select text, cut, undo, redo, move cursor, magnify and mail the text at the click of a button.
After typing a text, you can tap on top-right button to make the keyboard disappear and tap there again to view files (saved texts). From the list of files, you can delete, edit, or upload to Dropbox. Once the keyboard disappears, more options to save, settings, share to Facebook,and Twitter along with text stats show up.
I know this is confusing to hear, and it is confusing to use initially because of its non-traditional layout, but you do get the hang of it eventually.
I must say that the two additional rows really help a lot while typing. I typically often use numbers or important symbols, and hence having them only a tap away has really hastened my typing. But, other than numbers and common symbols, if you are looking for things like the copyright symbol or a heart symbol, you are really going to struggle because the scrolling system isn't very user friendly.
Conclusion and download link
To conclude, I am impressed by Fast Keyboard – Universal Text Editor owing to their innovative layout and immense supply of tools. The keyboard proved to be faster for my normal blogging needs but whether it will help you, depends on what you use it for. Plus various sharing features and tools along with the non intrusive ads wins me. Normal texting and casual emails can be managed by the default keyboard. But jobs requiring multiple long emails, blogging, etc. can shake their hands with this app.
Price: Free, optional $0.99 upgrade to remove ads

Version reviewed: 1.6.1
Requires iPod Touch, iPhone, and iPad (fully compatible) with iOS 4.0 and up
Download size: 2.7MB
Related Posts