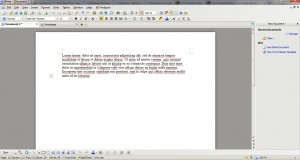 Microsoft Office continues to be the preferred choice for a majority of computer users looking for a dependable office suite though there have been a number of free programs that have emerged as credible alternatives to Microsoft. While OpenOffice.org is seen as Microsoft's direct competitor in office suites, Kingsoft Office Suite has slowly emerged as another reliable alternative for those who are looking beyond the two most popular ones.
WHAT IS IT AND WHAT DOES IT DO
Main Functionality
Kingsoft Office Suite is a package of three programs – Writer, Spreadsheets and Presentation – which offers a free alternative to Microsoft Word, Microsoft Excel, and Microsoft PowerPoint. In other words, Kingsoft Office Suite provides word processor, spreadsheet, and presentation functionality.
Pros
Familiar interface for Microsoft Office users
Can open, read, and edit all Microsoft Office formats (.DOC, .DOCX, .PPT, .PPTX, .XLS, .XLSX) and more
Can save as .DOC, .PPT, and .XLS (and more) formats
Does a very good job at properly formatting files that come from Microsoft Office (although it isn't perfect)
Smaller installation size than other free office suites such as OpenOffice.org
Has a tabbed view
Built-in PDF converter
…and more features, such as PPT -> Word converter, spell check, and document encryption
Cons
Unable to save documents in the new Microsoft Office 2007/2010 formats — .DOCX, .PPTX, and .XLSX
Free version doesn't support macros/VBA
Discussion
Kingsoft Office Suite is slowly emerging as a reliable alternative to both MS Office and OpenOffice.org because it is feature-filled and reliable. While Kingsoft offers three different versions of the office suite – Free, Standard, and Professional – the Free version takes care of most of your requirements with regards to an office suite. All the modules of Kingsoft, such as Writer, closely resembles Microsoft Office, thus people who are shifting away from Microsoft Office should not have much trouble in working with the program.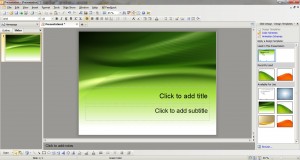 While Kingsoft is not able to save documents in the new MS Office 2007 and 2010 formats, it can open, read, and edit .DOCX, .PPTX, and .XLSX files. On the other hand, Kingsoft is fully compatible with .DOC, .PPT, and .XLS meaning you can open, read, edit, and save those files. If you are wondering what is the point of being able to open, read, and edit .DOCX, .PPTX, and .XLSX if you cannot save them, the point is you can save .DOCX, .PTTX, and XLSX files in the traditional .DOC, .PPT, and .XLS formats.
Other formats supported by Kingsoft Office are .DOT, .RTF (cannot save), .WPS, .WPT, .XLT, .CSV, .XML, .ET, .ETT, .PPS, .POT. DPS, and .DPT.
One area where Kingsoft is actually better than MS Office is the tabbed feature that allows each open document to be displayed in its own tab, similar to browsers.
Aside from all that, Kingsoft has a ton of supplementary features, such as a built-in PDF converter that allows users to save their documents in a PDF format. To save a file in PDF format, simple click open the File drop down menu and click Export as PDF. Other features include a spell checker, PDF-like owner and user password protection of documents, built-in e-mailing function, and more. While the free version of Kingsoft Office does not support Macros or Cover Page, it is packed with more than enough features to take care of any requirements for casual users.
Conclusion and Download Link
Kingsoft Office Suite is one of the best alternatives for Microsoft Office. While the paid versions do provide additional features, the free version should be more than enough for casual users, and features such as the inclusion of tabbed feature, ability to convert files into PDF format, and good interoperability with Microsoft Office documents makes it better than other many other free office suites.
Price: Free
Version Reviewed: v8.1.0.3375 — Kingsoft Office Suite 2012
Supported OS: Windows 2000/XP/2003/Vista/Server 2008/7
Download Size: 39.1MB
VirusTotal Malware Scan Results: Too big for VirusTotal scan
Portability: Installation required
Kingsoft Office Suite download page
Related Posts