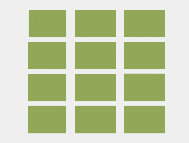 A decade ago the internet was just a tiny little speck and online privacy was not a huge issue. Your information was only in a few places and back then we were more careful with what we did. Plus the notion of online privacy wasn't really popular. Now our information is everywhere and we may not even know it. With Privacyfix we can take a stab at fixing that.
What is it and what does it do
Main Functionality
With Privacyfix you can tell Facebook and Google to stop stalking you behind your back. With this free service you tell Facebook and Google what they can and can't see or which things you want them to be able to use. With this you should never have to worry again about the two looking over your shoulder.
Other features of Privacyfix is being able to tell you what websites are tracking you, request the removal of your data from specific websites that store it, and delete tracking/ad cookies.
Pros
Allows you to modify changes to Facebook
Allows you to modify changes to your Google Account
Allows you to request removal of your data from websites
Shows how many — and what — sites are tracking you
Developer claims they do not save your history, cookies, or IP addresses
Cons
Even though you must download an add-on for Firefox or Chrome to use this, most of the functionality is not present in the add-on — you are redirected to Privacyfix's website to do everything
Nothing is done for you automatically — you are shown a list of issues and told how to fix it. Often the fix is simply clicking a few buttons, so it is easy, but it still isn't automatic.
The page did not load correctly the first time for me
Discussion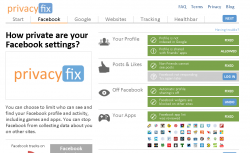 Privacyfix takes two approaches to helping you fix your privacy. The first approach is clean-up. Privacyfix helps you:
Modify Google and Facebook account settings to make your data on Facebook and Google more private
View which websites have stored your information and initiate a request asking them to pull it
View which websites are tracking you and easily delete tracking/ad cookies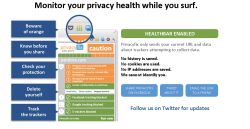 The second approach is proactive notification. There is an optional "Health Bar" you can enable that gives you information about how the websites you visit handle privacy. Sort of like WOT except more privacy oriented.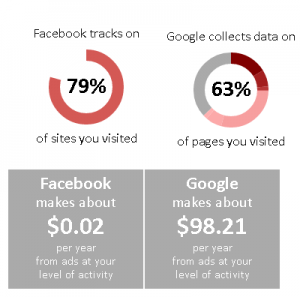 One interesting feature of Privacyfix is estimating how much money Facebook and Google make off you. While having this information doesn't do much in terms of helping you protect your privacy, it is interesting to know.
Using Privacyfix is really easy. Simply download and the add-on and you are automatically sent to Privacyfix's website (or you can manually go to https://www.privacyfix.com/start, if you wish). Once there, Privacyfix takes a few seconds to setup after which you are guided step-by-step through fixing your Facebook account settings, fixing your Google account settings, seeing which websites store your data and initiating a data removal request, seeing which websites track you and delete tracking/ad cookies, and optionally enabling the Health Bar.
It is important to note the developer of Privacyfix claims the service is completely private. In the words of the developer:
We don't collect any data from your use of Privacyfix, unless you choose to send it to us. We don't store IP addresses and we cannot and do not see or save your web browsing.

Does my data stay private?

Yes, your data stays completely private. Privacyfix is engineered not to transmit or share any of your data (history, cookies or privacy settings). All of the ratings and calculations for Privacyfix happen inside your browser, using generic formulas and data sent from our server. The only data that your browser sends to our server is standard technical data (like your IP address), which we promptly delete.

What's your privacy policy?

We do not receive or store any data associated with your use of Privacyfix unless you voluntarily send it to us. Period.
Of course it is impossible for dotTech, or anyone, to verify these claims without an independent security audit of the company (which likely isn't going to happen), but it is still important to know.
Conclusion and download link
Overall this is a great service. I am really glad that we came across this because privacy is very important to (most) everyone. While Privacyfix isn't a magic wand for fixing privacy woes, it really does help.
Price: Free
Requires: Firefox or Chrome
Privacyfix homepage | Firefox add-on download link | Chrome add-on download page
Related Posts