With hundreds of thousands of videos being uploaded on video sharing websites such as YouTube and Dailymotion, there is a big need for a program that make sit easy for users to download videos from such websites. While there are many websites that provide downloadable link for any videos that you would like to down, SPEEDbit Video Downloader provides an even better alternative.
WHAT IS IT AND WHAT DOES IT DO
Main Functionality
SPEEDbit Video Downloader is one of the better programs available for downloading videos from online streaming video websites. Video Downloader also allows the users to convert the downloaded videos into any format that they need.
Pros
Has ability to download videos from a large number of video sharing websites
Allows users to convert the downloaded videos into different formats
Is compatible with Internet Explorer, Firefox, and Chrome
Allows capture of audio track from videos
Cons
Necessitates installation of a toolbar
Comes with ad links to Amazon and a translation utility
Download speed is a bit slower than usual
The built-in video converter supports only basic output profiles/formats — nothing like specialized converters, such as Video to Video Converter
Doesn't support Opera
Doesn't support downloading from Hulu — grab Foxreal YouTube FLV Downloader for that
Discussion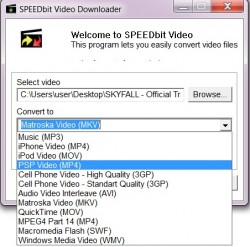 SPEEDbit Video Downloader is an excellent program for those who want to download flash videos from different websites. While downloading videos from video sharing websites (like YouTube, MetaCafe, Dailymotion, BREAK, and many more) is a breeze with the program, it also allows you to download videos from other sites, such as Facebook.
After downloading and installing SPEEDbit Video Downloader, a toolbar is added below the address bar of your preferred internet browser. To download the videos, simply launch the video in your browser and click the Download and Convert Video button on the toolbar. For example, if you want to download a video from YouTube, simply open the video on YouTube and once the Download and Convert Video button turns alive, click on it and specify the folder where you want the video to be saved.
Once you complete the download, the program will provide you the option to convert the downloaded video into one of a handful of formats or if you only want to extract the audio. Do take note while SPEEDbit Video Downloader has a built-in video converter, it only provides the basics when it comes to output profiles/formats. The screenshot above shows you what is available.
Despite SPEEDbit's claims that the program will makes use of its acceleration download technology, the download speed was a bit slower than usual for me. And while you can extract audio from video files using the program, the option is provided only after you complete the download of a file, after which it once again restarts the download, this time extracting just the audio. In other words, if you want to extra audio from a file, you will be downloading the video twice.
Conclusion and Download Link
People who enjoy downloading video content from the web will find SPEEDbit Video Downloader to be an excellent tool. However the lack of support for conversion to more output formats/profiles means that the conversion feature is not as effective as what a specialized video converter can provide, and some people may be put off by the presence of ads that are built into the toolbar.
Price: Free
Version Reviewed: v3.0.9
Supported OS: Windows XP/2003/Vista/Server 2008/7
Download Size: 6.07MB
VirusTotal Malware Scan Results: 2/44
Portability: Not portable, installation required
SPEEDbit Video Downloader download page
Related Posts