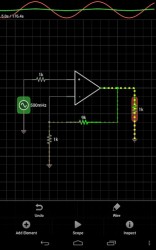 iCircuit is an application that will allow you to build and test circuits. This would be incredibly useful if you are a student or professional working in the field of electronics. This application will work like most CAD-type applications. In addition, it can also be a fun application to use even if you do not no much about circuits or electronics.
What is it and what does it do
Main Functionality
iCircuit will be primarily used by those in the electrical field. It is designed to give you a CAD-type application right on your Android device. This will allow you to test any potential circuit on the go.
Pros
Works like any CAD program
Always stimulating
Over 30 elements available
Full featured multimeter
Built in oscilloscope
Cons
Forced full screen
No time reset
No instructions
Rough UI
Discussion
iCircuit is a great program that will surely benefit those who work with electronics on a daily basis. While this program is designed to be educationally useful for students, it will undoubtedly be a great tool for professional electricians.  Making and experimenting with potential circuits usually happens through a CAD program. While these programs are great, they are not very portable as they only typically work on full-fledged computers.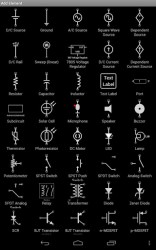 iCircuits takes nearly every feature of a CAD program and puts it in the palm of your hand. However, there is one feature that goes above and beyond typical CAD programs. This is iCircuits ability to constantly stimulate your created circuits. This is fantastic because it keeps you from having to stop and make measurements all the time. You can simply play with the circuit while the power is running and easily find a configuration that works.
This application features over 30 different elements you can use such as signal generators, voltage sources, current sources, and dependent sources. In addition, you will also find nearly every other type of element that you could possibly need while building your circuits. In addition to these elements, you will get a built-in multimeter and oscilloscope, These tools will allow you to probe the circuit and track many electronic signals over time.
There are a couple of downfalls with this application. For starters, the user interface can be kind of a pain. It only allows you to work in full screen mode. This can be rather troublesome when you get new emails, texts, or other notifications while you're working.  In addition, you cannot reset the time on your circuits, which can prove to be a minor inconvenience on more complicated designs. It also does not come with any instructions. This normally isn't an issue if you have used a CAD program before, but it still would be nice to have an introduction to the features and how to use them.
Conclusion and download link
iCircuits is truly a great application for anybody interested in the field of electronics. While there are some drawbacks, it doesn't changed the fact this app is still the best available on the Play Store. There has yet to be any application that comes even close to achieving what this application has. So if you are looking for a decent CAD program for Android, look no further than iCircuit.
Price: $4.99
Version reviewed: 1.5
Requires: Android 2.1 and up
Download size: 7mb
Related Posts