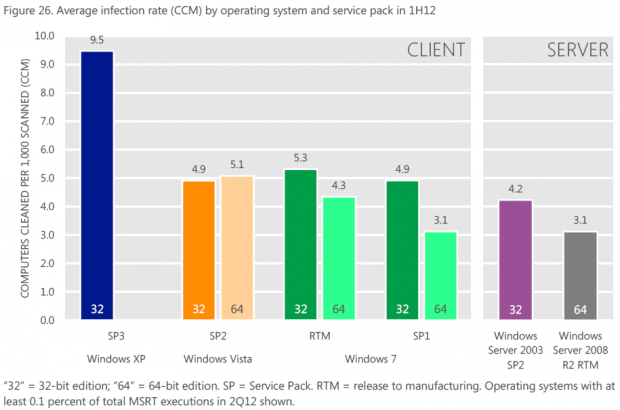 Wondering which version of Windows you should stick to be the safest? According to data released by Microsoft in its most recent Microsoft Security Intelligence Report, Windows XP remains at the top of the list when it comes to most infected Windows version while Windows 7 — particularly 64-bit Windows 7 — is the least infected. (Not counting server versions of Windows.) This likely isn't a surprise to many. Windows XP is the oldest version of Windows that is still supported by Microsoft meaning it has less built-in defenses than newer Windows yet still has a huge market share (although, as mentioned before, Windows 7 is now more popular); this makes Windows XP a prime target for malware attacks.
On the not-so-bright side, infections on Windows 7 and Windows XP have risen since the beginning of 2012:
It should be mentioned that malware infections aren't as widespread as you may think. According to Microsoft's data, Microsoft detected and cleaned 9.5 of every 1,000 XP SP3, 4.9 of every 1,000 Vista SP2, and 5.3 of every 1,000 Win7 SP1 systems during the first six months of 2012. That makes infection rates at less than 1%. These less-than-1% rates mean if you aren't stupid you can probably avoid being infected by a virus, although there are roughly 1.25 billion Windows machines worldwide so less-than-1% infection rate still means a whole lot of infected computers on an aggregate basis.
If you are curious as to how Microsoft got the data it used to put together the report, Microsoft gathers this data through its security software solutions (including but not limited to Microsoft Security Essentials) when users opt to send Microsoft usage data. So while the data isn't representative of all Windows machines around the world, it should be statistically sound.
The Microsoft Security Intelligence Report actually provides a lot more data than what I have mentioned above; it is a 100+ page document that gives quite a bit of insight on the security situation around the world such as infections by regions of the world, where the most phishing takes place, how many people use Windows Update, and more. Check it out from the link below, if you are interested:
Microsoft Security Intelligence Report PDF
[via Sophos]
Related Posts