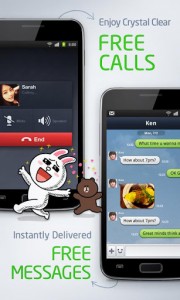 Line is an application that will allow you send and receive calls and massages free of charge. This can be especially useful for those who are on a tight cellular plan. If you are on a plan that has a limited number of minutes or messages that you can use, the Line will be extremely useful.
What is it and what does it do
Main Functionality
Line is designed to make using your cell phone much more affordable. With Line, you no longer need to worry about going over your minute or message allowance. It is supposed to bring you closer to friends and family by allowing you to communicate with them more often.
Take note that calls and messages sent/received by Line are done over the internet — so you either need a data plan or access to a WiFi connection. Similarly, keep in mind that, if using on network data, your monthly data quota (or daily or weekly or whatever you have) will be deducted while using Line.
Pros
Free voice calls
Free text messages
Supports icons, photos, and location information
Social network features
Sticker shop
Official Line accounts
Cons
All people you want to send/receive calls/messages to must be Line users
Annoying interface
Drains battery because it is "always on"
Cannot create lists for stickers
No video chat
Discussion
Line is a fantastic application that will give you free voice calls and free text messages. This type of service is designed to be used in conjunction with an unlimited data plan. In fact, the only thing you actually have to pay for is a data plan. If your carrier offers a data-only plan, then you can use Line to receive calls and messages without paying your carrier for them. This method of using smartphones is starting to become more and more popular due to the outrageously high cost of cell phone service.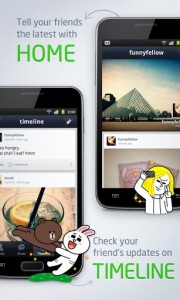 You can also use line to share images, videos, and your location. Additionally, you will be able to view a timeline of all of your friends on Line. It is these features that cause Line to behave almost like a social networking service. Combine these features with the calling and messaging, and you have the perfect way to keep in touch with anybody you want. The only downside is that everyone you talk to must have Line installed on their smartphone. This is unfortunate because it really limits the number of people you can communicate with.
Line supports fun extras like icons and stickers. In the sticker store, you can find all sorts of entertaining graphics that you can share with any of your friends and family members. However, you cannot create custom lists of your purchased stickers. This would be incredibly helpful if you wanted to keep track of the stickers you use most often. In addition, there are Line Official Accounts which are actually linked to celebrities and coupon sites. These accounts will automatically update you with all of the latest news from that particular person or service.
While Line is a fantastic service, there are a few shortcomings. First of all, Line's user interface can be kind of annoying. The pop-up notifications and cartoon-type stickers give this application an unprofessional look and feel. In addition, Line will not support video chat. This is hopefully a feature that will be implemented in the future as video calling is growing more in popularity. On top of everything, I have found that using Line will consistently cause your battery to drain much faster. This is undoubtedly due to the constant use of data instead of your typical cell radios.
Conclusion and download link
Overall, Line is a great service and can be incredibly useful to people who are fed up with cell phone providers. If you are able to sign into a data-only contract, then you have no reason not try Line. In the long run, only paying for data will save a significant amount of money. All you have to do is convince your friends and family to all get Line accounts and you will be able to constantly stay updated with them.
Price: Free
Version reviewed: 3.1.7
Requires: Android 2.1 and up
Download size: 14mb
Related Posts