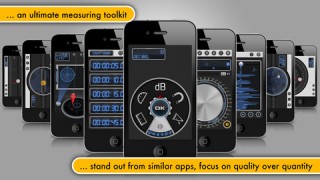 When it comes to measuring utilities, I have downloaded a ton of different apps for my phone. Most of them have one main purpose (i.e. a compass) or might have a small handful of purposes (i.e. ruler, protractor, and level). What I didn't like, though, was having to download six or seven different apps in order to encompass all the utilities I am looking for. When I found Multi Measures – The all-in-1 measuring toolkit, I knew that I had finally found that app that measures pretty much everything.
What is it and what does it do
Main Functionality
Multi Measures is an all-purpose app that currently contains 11 measuring tools.
Pros
Aesthetically pleasing futuristic user interface
11 excellent measuring tools and more on the way
User-defined preferences for every unique tool
Cons
No compass (on the way according to the developers)
Discussion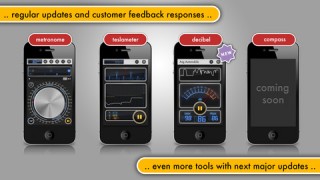 When it comes to apps on my phone, I am always on the lookout for handy tools and/or utilities. Multi Measures is such a intriguing app to me, because not only does is it provide 11 tools, but its user interface is extremely well-designed. The futuristic interface has the perfect sound effects to go along with its gear-like selection mechanism.
Multi Measures contains the following 11 tools: a ruler, protractor, sound meter, teslameter, metronome, multiple simultaneous timers, stopwatch, seismometer, plumb bob, spirit and surface level. The ruler can measure in centimeters, inches, pixels, or pica, and provides clear instructions on how to measure long objects. The protractor can measure angles in degrees, radians, gradians, or revolutions.
The surface level, spirit level, and plumb bob are all well-designed carpentry and construction tools that can come in quite handy if you forgot a specific tool at home. The seismometer (vibration), telsameter (magnetisim), metronome (music), and the decibel (sound) are all quite unique tools, most of which I haven't seen elsewhere. I was quite impressed by how well all of them work. The stopwatch and timer are necessary for an app like this and very handy. The developers have stated that a compass is on the way in a future update, and I am hoping that measuring devices for travel (altimeter, speedometer, etc.) or possibly health (blood pressure monitor) are added at some point.
It is worth noting that each tool has its own unique group of settings/preferences that the user can tinker with. The settings can be accessed by selecting the i button in the corner of each measuring tool.
Conclusion and download link
Multi Measures is an impressive all-in-one measuring tool for the iPhone. It provides an avenue to download many tools in one app, instead of having to download several different apps to meet your measuring needs. There are currently 11 tools and more are on the way!
Price: $0.99

Download size: 14.4 MB

Requires: iPhone/iPod Touch/iPad; iOS 4.3 and up

Multi Measures – The all-in-1 measuring toolkit on iTunes
Related Posts