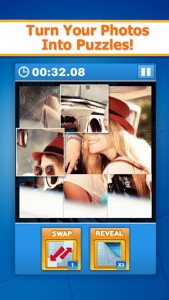 Phuzzle is a unique game that will turn any photo you have or have taken into a puzzle. This fun game can be a great way to have fun with your older photos. It can also be an interesting way to share your favorite photos with your friends and family.
What is it and what does it do
Main Functionality
Phuzzle is designed from the ground up around entertainment. It is designed to pass the time and help you experience your memories in a new and exciting way. It is perfect for families and other groups wishing to stay in touch by sharing memories.
Pros
Turn new and existing photos into puzzles
Send puzzles to friends and family to have them solve
Personalized puzzles known as Phuzzlegrams
Multiplayer or solo playing
Follow other users and solve their puzzles
Cons
Long load times
Requires Facebook
Discussion
Phuzzle is a very interesting game that uses a new take on photos. All you do is select an existing or newly taken photo, and Phuzzle will create a puzzle out of it. This game can be used to get a new twist on old photos that you've lost interest in. The puzzles themselves are not too difficult so you can very easily have younger kids play the game. This will make sharing photos around your family or a close group of friends much more enjoyable.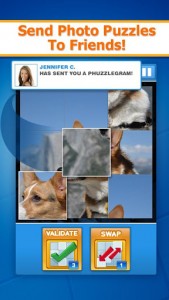 In addition, Phuzzle has a fantastic social aspect. You can link up with any of your friends and family and  have them do your own personalized  puzzles known as Phuzzlegrams. In addition, you access other users profiles and do some of the puzzles they have created, This makes photo sharing much more interesting and unique. Unfortunately, the sharing experience requires a Facebook account. This can actually be quite annoying because it makes sharing puzzles with your entire family impossible. This proves to be a major inconvenience because it severely limits the audience that gets to try your puzzles.
Fortunately Facebook is not required to use the game by yourself. The game will function completely if you only choose to use the app for personal use. The only major downside with the actual gameplay is that the load times for the puzzles can be rather long. This can really test your patience depending on your network speed. In addition, you might notice that after doing a few puzzles, they actually become rather easy. However, the difficulty is perfect for first time users and smaller children.
Conclusion and download link
Overall, Phuzzle is a fantastic game and brings a refreshing addition to your photos. It can be incredibly fun and entertaining for people of all ages. It also adds a bit of suspense when you are putting together a picture that you have never seen before. This game is fantastic for anybody looking to make viewing and sharing photos more unique.
Price: Free
Version reviewed: 1.1.2
Requires: Android 2.3 and up
Download size: 31mb
Related Posts