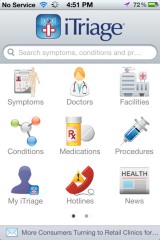 Mostly everyone has been a situation where they have some sort of curious ailment and aren't exactly sure what to do about it. Or maybe it isn't you, but rather a child, spouse, or other loved one who has an ailment. Healthhagen LLC provides an app called iTriage that will assist in tentatively diagnosing yourself based on your symptoms, and provide any other medical information you might be seeking.
What is it and what does it do
Main Functionality
iTriage allows you to search for symptoms, conditions, and medical procedures, while also providing databases of doctors, medical facilities, and medications.
Pros
Easy-to-use and attractive UI
Many parts of app have been reviewed and approved by Harvard Medical School
Excellent system checker to tentatively diagnose yourself
Find nearby doctors in the field you need
Find all nearby medical facilities
Includes average wait times and phone check-in for select emergency rooms and urgent cares
Make appointments with select doctors
Ability to connect to Microsoft HealthVault
Save all of your personal medical information within the app
Tons of optional health news
List of important phone numbers and hotlines in the medical field
Cons
Users have complained about random scrolling issues
Discussion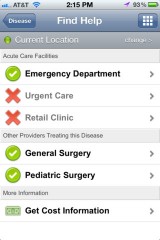 As you can see from the first screenshot, iTriage's user interface is made up of large category icons that will lead to tables of information. The design is very simple to use and the icons are relevant and well thought out for each category. You can also use the search engine on the top of the main screen to search for symptoms, conditions, and procedures.
iTriage makes it a point to sell its symptom checker, which provides a human body for you to click on in reference to the body part that is ailing you. You have the option to rotate the body to the rear and change the gender if need be. When you select a body part, the app will display (in typical iOS table form) a list of common symptoms, followed by less common symptoms. Clicking any symptom will lead you to possible diagnoses and eventually (if you select one) a full reference list of information for that condition. The whole feature was quite impressive to say the least.
As good as iTriage functions as a system checker, it performs equally well in every other feature it provides. If you are looking for a doctor in your area, the app allows you to search by specialty and provides phone numbers, locations, and ratings. If you are trying to locate medical facilities near you, iTriage provides a list of ERs, urgent cares, clinics, pharmacies, and much more. The app even has a list of important emergency phone numbers and advice lines.
The app conveniently provides an account called "My iTriage", so that you can save all of your insurance information, your health record, scheduled appointments, a list of your health care providers, and any saved conditions, procedures, or medications. There is a bonus feature of being able to connect to Microsoft HealthVault as well, which is becoming a popular software in the medical field for communicating patient information. The app also provides the ability to look up any medication and get comprehensive list of possible side effects, usage and label information, or even what to do if a dose is forgotten. I think we have all been in that situation at some point. You also might enjoy reading some of the health news that iTriage grabs from various sources, which is fully customizable.
Conclusion and download link
iTriage is a robust reference guide for everything you could possibly need in the medical field. It not only can give you a tentative diagnosis, but it can push you in the correct direction towards getting a permanent one. Given how fragile a human's health can be, an app like this should be on every iPhone.
Price: Free

Download size: 23.6 MB

Requires: iPhone/iPod Touch/iPad; iOS 4.2 and up

iTriage – Symptoms, Doctors, Diseases, Conditions, Procedures, Medications, ER, Hotlines, Doctor Finder, Doctor Search, Medical, Health, Healthcare on iTunes
Related Posts