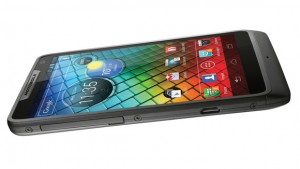 Rooting your Motorola RAZR i will help you enjoy the taste of your device to the extreme ends by breaking free of the bounds imposed on the device. This guide reportedly works for Motorola RAZR i running on Android 4.0 (Ice Cream Sandwich), and might not affect the future OTA updates for your device. Though rooting means joy, there are also risks involved while/after you get your device rooted, such as voiding the warranty of your device.
Disclaimer: This guide is intended as a helpful "how to". dotTech and its writers are not responsible for any gain or loss (including but not limited to bricked devices) incurred as a result of following this guide. Root your device at your own risk. Rooting may void your warranty.
Requirements
This guide will help you to root your Motorola RAZR i running on Android 4.0 Ice Cream Sandwich. This guide requires you to have unlocked the bootloader of your device before carrying on with the procedures.
Before We Begin
Before starting off with the steps to get your Motorola RAZR i rooted, be ready with the following:
Unlock the bootloader of your Motorola RAZR i (Please do note that unlocking the bootloader of your device and/or rooting your device will void its warranty).
Download RAZRi_Root_Windows.zip to your computer. Extract this file to any preferred location.
Install ADB and Fastboot on your computer.
Motorola USB drivers for Windows, if you are running Windows, or the drivers for Mac or Linux if you are running those. Install the drivers if you haven't installed them already.
Make sure that USB debugging is enabled in your device (Settings -> Developer Options -> USB debugging).
How To Root Motorola RAZR i
To root your Motorola RAZR i, follow the steps below:
Turn on your device if it's not already on.
Connect your device to your computer via a USB cable.
Wait till Windows detects your device.
If the device is not detected that you had correctly installed the drivers.
After the drivers have been successfully detected and installed, open the RAZRi_Root_Windows folder which you had extracted earlier.
Run Root.bat as Administrator (right-click -> Run as Administrator).
Wait till the process finishes and your device is reboots successfully to its home screen.
Disconnect the device from your computer.
Open up your Apps list and you will notice a new app 'SuperSU'. You can access it anytime to manage root permissions for different apps.
If you are having any difficulty in following the textual guide, check out the video guide by TheRazrGuy:
Conclusion
Enjoy a rooted Motorola RAZR i, free from the chains; and don't forget to play safe. Now you can do things such as install a custom recovery, manage app permissions, block ads or deny apps Internet access.
[via XDA]
Related Posts