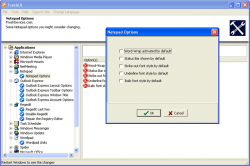 Name the last Windows operating system you used that didn't benefit from a good 'tweaking'. The truth is, almost every operating system runs better after you have it set up the way you want it. The problem is, opening all the different menus to make these changes, or even finding all these menus, can be tiresome. Fresh UI is a program that brings many of these tweaks to you, under one roof.
WHAT IS IT AND WHAT DOES IT DO
Main Functionality
To put it simply, Fresh UI is a program that makes tweaking your computer fast and easy. The program allows you to tweak everything from system settings to visuals and everything in between. Yes, all of these tweaks can be done without the program, but Fresh UI helps to speed up this process by offering all of these changes in one place instead of you having to hunt all over your computer for them.
Pros
Has many, many, many tweaks
Is easy to use, with ll tweaks available in one organized tree
Cons
All tweaks can be done without using this program — Fresh UI doesn't offer anything groundbreakingly new
'Help' files don't offer much support for novices
Some tweaks could really mess up your system if you don't know what you're doing
Discussion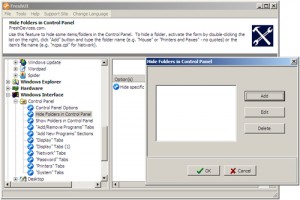 Everyone wants a fast running computer. We also want a computer that is set up in a way that we like. For the most part, you can make a computer do whatever it is you want it to do. However, most of us don't know how to go about doing that. That is where Fresh UI comes in.
This is a program that dedicates itself to helping your computer not only run better but the way you want it to. Please note, this is not a 'miracle' program. Simply installing it won't 'fix' your computer. You need to manually enable/disable/modify the tweaks and settings available in Fresh UI for it to have any affect on your computer. However, after going through the tweaks that it offers, you may be able to offer yourself a better computing experience.
Fresh UI has tweaks related to five main categories:
Customizing Windows User Interface (UI)
Optimizing system settings
Optimizing hardware settings
Customizing Windows application settings
Controlling user environment with policies
Of course, this program is not without its flaws. The program offers a lot of tweaks, some of which can be dangerous to your computer if not used right. Don't expect this program to hold your hand as you go through it, either. This is obviously a program that is made for people who have a pretty good understanding of computers. Your best bet is, if you don't know what a tweak does, don't use it!
Also, this program does not offer you anything that you can't do yourself (assuming you know how to do it, that is). This program is only helpful because it offers you all of these tweaks in one easy-to-find place so you don't have to go hunting for them. That alone should be enough to warrant a download. It is free after all.
CONCLUSION AND DOWNLOAD LINK
Overall, I would say that this is a decent program for people who are looking to make tweaking their computer easier. It offers tweaks for every operating system from Windows 7 all the way back to Windows 95. On the flip side of that, if you don't understand what a tweak does, this program is not going to help you figure it out. So if you don't understand what a  certain tweak does (whether the program says it is safe or not), I would suggest leaving it alone.
Price: Free
Version reviewed: 8.85
Supported OS: Windows 95 / NT / Me / 98 / 2000 / XP / Vista / 7
Download size: 1.55MB
VirusTotal malware scan results: 0/43
Is it portable? No
Related Posts