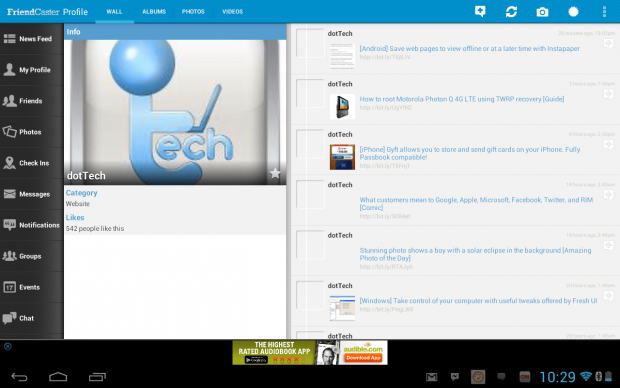 Friendcaster is an alternative to the official Facebook app on Android, which is lagging behind when it comes to features. Friendcaster is the complete opposite — it is optimized for the larger screen of a tablet, and it still has all of the functionality plus more of the original Facebook app for Android.
What is it and what does it do
Main Functionality
Friendcaster basically serves as a replacement for the official Facebook app, which has limitations particularly when it comes to Android tablet users. Friendcaster can do everything the official Facebook app can do and more.
Take note Friendcaster isn't only for tablets — it works well on Android smartphones, too.
Pros
Is tablet optimized (meaning it runs well on larger screen)
Features a nice, customizable theme
Full-featured in regards to using your Facebook account

News feed
View photos
Interact with friends
View the pages that you manage
Read older messages in a very well organized interface
View Facebook groups that you are a part of
…and more
Supports Facebook chat
Sharing is actually possible with this app
Features a "Top Apps" section that allows you to view popular apps that you can install on your Android device — these apps are downloaded via Google Play
Cons
The Facebook chat function requires you to download a separate app altogether, which doesn't really make much sense in my opinion — why offer the feature if you must install another app for it?
The news feed doesn't take advantage of the entire screen
Some profile pictures don't load, or it loads the wrong ones
Some tabs don't take advantage of the entire screen. This is done for the reason to display more content but the app doesn't always display this extra content, so the extra pane wastes space and doesn't really need to be there.
Can't manage Facebook Pages from Friendcaster — you can only view them
Discussion
Friendcaster is meant to be an alternative to the official Facebook app, which as I said earlier, has its limitations. The biggest reason to download Friendcaster would be to get a Facebook app that better supports a large screen, if you are a tablet owner. The official Facebook app has gotten better to an extent, but, for the most part, it really isn't optimized for the larger screen of a tablet. (If Facebook can do it on the iPad, why can't they do it on Android? Is that too much work?)
Friendcaster supports everything Facebook has to offer, such as Pages, Groups, Chat, and so on. Friendcaster even supports Check-Ins, a feature that I've never used, since I really don't see the need to let all of my friends know where I am, but others do make use of this Facebook feature, so it is nice to see it there. When you do select the option to check in, you are presented with a dialog containing three options, the first being the place you're at, the second is the option to tag friends, and the third is the message you may want to add.
Friendcaster also allows you to view the Facebook Pages you manage, but this is a limited feature as it doesn't let you post as the page, or do anything as the page. So if you were hoping to manage your Facebook page from Friendcaster, sorry!
I said earlier that this app is full-featured. By that I mean all of the important functions that the average Facebook user may use are supported by Friendcaster. But business tools aren't really supported very well.
Notifications and messages are integrated well in Friendcaster, though, due to a second pane, neither make use of the entire screen. I do like the idea of the second pane, but if it isn't being used then it shouldn't be displayed.
Facebook Chat is where this app gets a little wonky. Chatrequires a separate app from Friendcaster. In other words, Facebook Chat is integrated with Friendcaster but you must download another app to make it work. This, in my opinion, makes no sense. Instead, Chat should be part of the Friendcaster app rather than having a button in the app that asks you to download the other app. Further, the Friendcaster Facebook Chat app is less optimized for tablets than Friendcaster, although it isn't too bad, and when opening a chat window the animation that is displayed is rather slow, which isn't that bad, but I could see it being an annoyance given the right (wrong?) circumstances.
Similar to Facebook notifications, the news feed doesn't take full advantage of the larger screen since it once again has that second pane that often doesn't display any extra content but rather just wastes space. I think that the second pane is a great idea, but if it isn't in use then it shouldn't be displayed.
Liking, sharing, etc. is a little different in Friendcaster. Instead of displaying small buttons below the post, you need to tap and hold the post until a menu comes up with liking, sharing, etc. options. Oh, and guess what — you can share posts with this app, unlike the official Facebook app.
Finally, Friendcaster features a "Top Apps" section, which allows you to browse popular Android apps that range from games to travel apps and everything in between. This section can be useful to some people that are looking for Android apps to install, but, when I took a look at it, it only came up with five apps. Five apps isn't that useful — I think it should display more, to give users more popular apps to pick from.
Conclusion and download link
Overall, Friendcaster is a good app, and I recommend downloading it if you frequent Facebook on your Android. Right now, the official Facebook app is lagging behind in features and functionality. While it is catching up, with some interface changes and speed improvements, it isn't on the level of Friendcaster.
Price: Free
Version reviewed: 5.1.2
Requires: Android 1.6 or higher
Download size: 4.1 MB
Related Posts