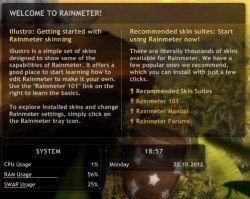 If you are happy with the default Windows interface, then Rainmeter is not for you. However, for those of you who like to customize your Windows experience, Rainmeter may just be what you are looking for. Rainmeter makes it easy to not only to change the way Windows looks but it also offers a number of helpful additional functionality.
WHAT IS IT AND WHAT DOES IT DO
Main Functionality
Rainmeter offers you the ability to apply customizable skins to your computer. You can either make these skins yourself or download pre-designed skins off the internet, most of which are freely available.
Rainmeter makes it easy to display helpful information right on your desktop or screen in a fun way, using floating widgets (called "applets"). Some of the different information you can choose to display with Rainmeter includes RSS feeds, weather, computer stats (like memory and CPU usage), clocks, and even your battery meter. However, Rainmeter can do a lot more than just that.
To get an idea of what Rainmeter can do, check out the following screenshot of a desktop using Rainmeter's Engima skin suite: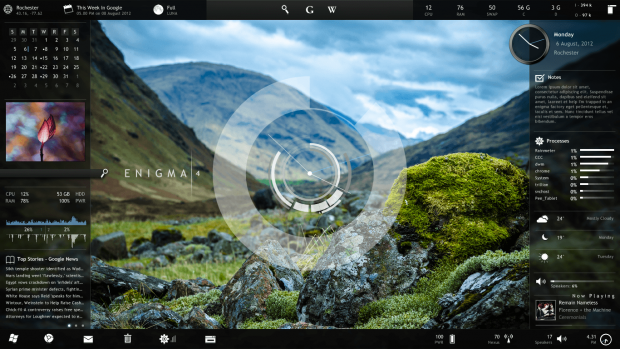 Pros
Feature-filled in regards to skinning your computer and using floating widgets
Create your own skins or download tons of free skins, including whole "skin suites"
Extremely customizable
Huge community of Rainmeter fans keep new content coming
Getting started guide pops right up after installing (after reboot)
Cons
Requires a reboot before using
Making full use of this program requires overcoming a steep learning curve
Discussion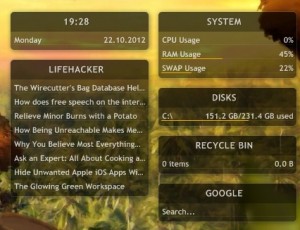 If you are not happy with your current Windows experience, you can mold it into something more to your liking with Rainmeter. In short, this is a program that gives you a way to display important information on your desktop and customize the look and feel of Windows.
Installing Rainmeter takes a bit of time. A lot of this has to do with the fact that you have to reboot your computer before you can begin using this program. In the end, however, it is all worth it if you are really looking for a way to customize your Windows experience.
The main goal of Rainmeter is to display helpful information on your desktop or screen, but in a format that you like. Some of the different information you can have displayed at any given time includes e-mails, RSS feeds, CPU usage, memory usage, computer information, weather forecasts, clocks, and so on. The good news is there is really no limit as to what you can do with Rainmeter because the core features of the program are expanded by downloading third-party developed "skins". The bad news is figuring out how to best utilize all of these features is going to take a bit of time — Rainmeter has a significant learning curve.
As soon as you boot up this program, it will offer you links to sites that you can visit to get some new skins, saving your precious time by not making you create your own. They also offer you a number of tutorials and manuals that you can look at. I highly recommend reading these tutorials so you can get a good understanding of how this program works.
Making your own skins can be kind of challenging if you don't know what you are doing. However, you won't have to make your own skins since there is a huge community of Rainmeter fans out there that are constantly coming up with new themes and skins. The program itself offers some links to some of these communities, but a quick Google search will find you tons more.
CONCLUSION AND DOWNLOAD LINK
In general, there are few programs out there that will offer you more customizable options than Rainmeter. However, if you are looking for something that is easy to use and not frustrating, you may want to steer clear of this one. Having a lot of options is great, but it also means that people who are not familiar with the program are going to feel lost. If you decide to grab Rainmeter, expect to go through a lot of trial and error with this one. In the end, however, the program works way too well for me not to recommended it. You will surely be frustrated with Rainmeter initially but once you get the hang of it, you will not be able to live without it.
Price: Free
Version reviewed: v2.3.3 (beta 2.4 also available)
Supported OS: Windows XP / Vista / 7 /8
Download size: 1.3MB
VirusTotal malware scan results: 0/44
Is it portable? Yes (portable version is offered during installation)
Related Posts