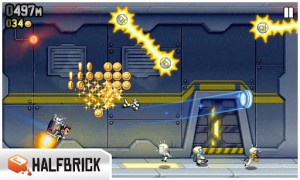 Jetpack Joyride is a game where you fly a jetpack in order to avoid obstacles. This game will be a lot of fun you used to be into the older "helicopter style" games. It will also be great if you've always secretly wished you could fly a jetpack!
What is it and what does it do
Main Functionality
Jetpack Joyride is a game where you must be constantly aware of your surroundings as you fly through difficult obstacles. You must do so perfectly as the obstacles get harder and harder the further you progress into the game.
Pros
High selection of unique jetpacks
Easy controls
Earn cash to buy new gear
Vehicle pickups
Missions and leader boards
Level Ups and upgrades
Cons
Only two spaces for gadgets'
All jertpacks have exact same function
Purchases are expensive
Bugs when stopping or starting game
Discussion
Jetpack Joyride is a game based on the concept of the old helicopter games. It could not be anymore simple because it just has one control. When your finger is on the screen. you go up, and when your finger is off the screen, you go down. You continue this process  in order to avoid obstacles as you travel through missions, collecting as many extras as possible.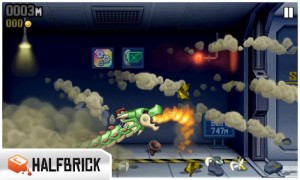 Jetpack Joyride has a very impressive selection of potential jetpacks. While this adds great variety, its odd that the different jetpacks don't behave any differently, they just look unique. Additionally, you can collect cash throughout the game to earn different vehicles, power-ups, and upgrades. You earn this cash by traveling through missions and by gaining positions on the leader-boards.
While this game is incredibly simple, it still has a couple minor flaws that keep it from being great. For starters, there are some bugs that occur between the time the stop the game and the time you start it again. Sometimes your settings will not save, sometimes your cash will not save, and sometimes you will just find items missing. Additionally, items like gadgets can be pretty expensive considering you do not earn a lot of money throughout the game.
Conclusion and download link
Jetpack Joyride is a very addictive game and will be great when you are trying to kill some time. The simple game play is very easy to understand and the embellishments make the game more exciting. If you were a fan of the older helicopter games, then this game is definitely for you.
Price: Free
Version reviewed: 1.3.5
Requires: Android 2.2 and up
Download size: 30mb
Related Posts