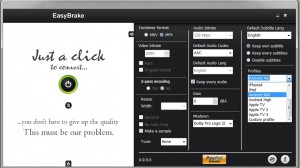 While there is no lack of free video converters that can convert videos into multiple formats, almost all of them require you to configure the output before they can start converting the video. For those who are not interested in such detailed configuration of their converted videos and would like to speed up the conversion process, EasyBrake is the tool to use.
WHAT IS IT AND WHAT DOES IT DO
Main Functionality
EasyBrake is a free and portable video converter that can convert your videos into MP4 or MKV format without the need for entering any output configuration. In fact, EasyBrake automatically detects the most optimized output video settings based on your input video.
EasyBrake makes use of the open source HandBrake engine, so it provides the same high-level of conversion quality that HandBrake provides.
Pros
Convert videos into MP4 or MKV format with just one click
Automatically determines optimal output audio and video settings
Choose preset profiles for Apple or Android devices
Allows creation of a one-minute sample to test the quality of the output
Accepts various input formats including 3GP, AVI, FLV, M2T, M2TS, MKV, MP4, QT, WTV, etc.
Supports 2-pass encoding
Is portable
Cons
Can only convert to MP4 or MKV formats — other output video formats are not supported
Doesn't support batch processing
Discussion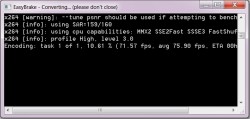 Once you download and extract EasyBrake, the simplest and quickest way to convert a video is to click on the Open a File button (which looks like a Windows Shutdown or Stand By button) and selecting the video. A console window opens up as soon as you select a video, which calculates the optimum output settings for the video and starts converting it.
As the default choice, the program converts videos into MKV format and automatically determines the output configuration. However you can choose a different output format (MP4 is the only other option) and output settings by clicking on the Open Settings Panel button near the top-right corner. From here you can choose either the MKV or MP4 output format, change the video and audio bitrate, resize the video width, choose the audio codec, select the default subtitle language, etc.
If you plan on putting your converted video on a specific electronic device, you can select different output profiles depending on what device you want to watch the video on. The available options are Apple iDevices and Apple TV, Android, or PC high or normal profiles. Depending on the profile selected, the program uses the parameters for the next video conversion.
Conclusion and Download Link
EasyBrake is a useful tool for those who do not want to be bothered about the different output configurations when converting a video. However, the lack of output formats other than MKV or MP4 means that it might not be ideal for people who want more conversion options.
Price: Free
Version Reviewed: v0.9.9.5
Supported OS: Windows XP/Vista/7/8
Download Size: 10 MB
VirusTotal Malware Scan Results: 0/44
Portability: Portable, no installation required
EasyBrake Converter download page
[via Ghacks]
Related Posts