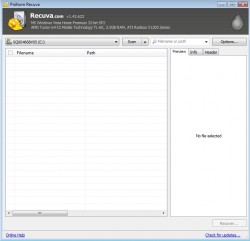 We all make mistakes, it is part of being human. At some point I am sure we have all deleted something we wish we could get back, or our computer crashed and we lost something important. It is moments like this that we wish we could magically recover these files. Well, that is just what Recuva claims to do.
WHAT IS IT AND WHAT DOES IT DO
Main Functionality
Recuva is a program that can help you recover files that you have deleted or lost through a computer crash. Not only can Recuva restore files you have deleted from you computer, but it can also help you bring back files that were deleted from your digital camera, flash card or an MP3 Player.
Pros
Recovery wizard helps narrow down your results by applying filters (like searching for certain file types)
Can recover files off portable devices like MP3 Players, SD cards and digital cameras.
Restores both files that have been deleted and files lost during a computer crash.
Cons
Google Chrome is offered during installation (can be avoided by simply unchecking the box)
Not all files are recovered perfectly (witnessed this effect more if trying to recover a file that was lost during a computer crash).
Some files simply could not be recovered
Discussion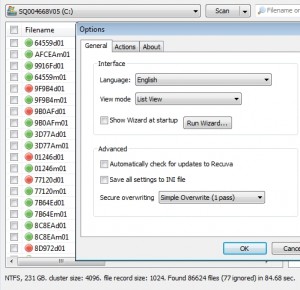 Let's start off by saying that I have never used a flawless recovery program. There have been some that worked nicely, but none have ever worked 100 percent of the time. Recuva is no different. That being said, Recuva did work better than other similar programs I have tried in the past.
Downloading and installing Recuva takes basically no time at all. However, it should be noted that, during installation, it asks if you would like to install Google's Chrome browser. This can be very easily avoided by simply unchecking the box during installation.
The first time you run the program it will launch with its recovery wizard. If you don't want to use this wizard, you can simply click cancel and the main program will open up. You can even choose for it to never open the wizard again by clicking a small box towards the bottom of the window before closing.
Running the wizard is extremely helpful…if you know what you are looking for. Usually when people run such a program they have a certain file in mind that they want to recover. The wizard can help narrow down your results to find that one specific file. If you want to do a full scan, I recommend just skipping the wizard altogether and clicking scan from the main menu.
Even if you do a full scan, this program runs quick. I had thousands of files and it took just a few minutes to find and display all of them. The program was able to successfully restore every file that had been deleted that I tested.
Recovering a file that had been lost in a computer crash was a bit different. However, I did not get to test this part of the program very much. It has been a long time since I suffered a computer crash and only two files were available to try. One was unable to be restored, and the other was recovered but all of the text was replaced by unreadable characters. In other words, it was still corrupted. Restoring a file that has been corrupted does me little to no good.
CONCLUSION AND DOWNLOAD LINK
Overall, the program works good. It is better than some other recovery programs I have used, but it is still not perfect. If you want to use it to restore deleted files, I think you will be fine. However, recovering files from a computer crash could be a different story. It may work, but like I said, I was not able to fully test this feature of the program. If you are still looking for a recovery program to use, this one is worth a look.
Price: Free (paid versions also available)
Version reviewed: v1.43
Supported OS: Windows
Download size: 2.77MB
VirusTotal malware scan results: 0/42
Is it portable? No
Related Posts