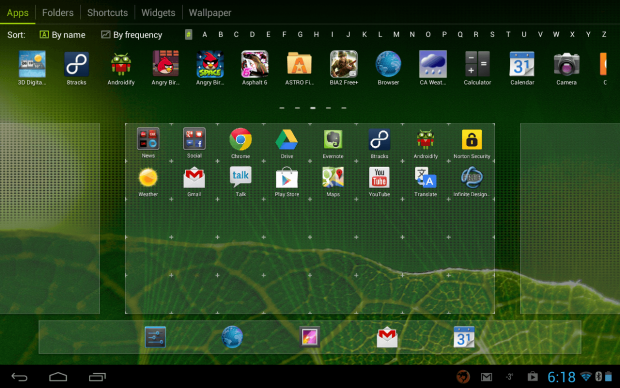 GO Launcher HD for Pad is an alternative to the stock launcher of Android, offering better features and better performance than the stock version. GO Launcher HD for Pad is a tablet only app, but there is a similar Go Launcher EX available for Android phones.
What is it and what does it do
Main Functionality
This app is for people who are looking for an alternative to the stock launcher of Android — a home screen replacement app. This could be for various different reasons, but in my case, I made the switch since the stock Android launcher wasn't working very well for me on my Motorola Xoom, which is running Jelly Bean. Stock Android launcher is very laggy and the animations can be very choppy at times, which is just an annoyance. GO Launcher HD not only provides a launcher with better performance but it also has more customization options than the stock one, such as allowing you to install themes, a feature that I really like although I am still in search of a favorite theme.
Pros
Performance wise, this launcher performs much better than stock Android; this will vary on different devices, but this is the case on the Motorola Xoom
Easy to use
Allows use of custom and regular touch gestures, such as swipe down to reveal a multitasking menu, where you can close individual apps or close them all
Can be themed with custom themes, everyone grabbing their favorite look
Features folders, which are very easy to create
Adding icons the home screen is a faster process when compared to the stock launcher
Allows you to uninstall apps via the app switcher, which can already be done if you're running Jelly Bean, but GO Launcher has improved this, now allowing you to uninstall apps much like you would on iOS
Cons
Some icons are blurry
Some gestures don't always work, and custom gestures don't seem to work at all (maybe an issue with Xoom only?)
Discussion
First off, the performance of GO Launcher HD for Pad is exceptional, swiping through pages, and doing various other things is smooth and fast, with no lag. It doesn't become unresponsive and crash, which is a good thing because, if it did, I would of immediately uninstalled the launcher and that would of been the end of that. When you compare GO Launcher HD for Pad to the stock Android launcher of Android 4.1 Jelly Bean, GO Launcher does much better. In my experience, on my Xoom, the stock launcher actually got worse every update, lagging more, and just not performing the way it should of. GO Launcher runs much better.
Another thing that is very important when it comes to a launcher is its usability. If it's confusing, that's usually kills it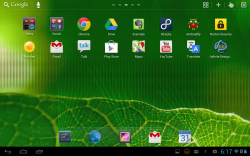 for a lot of users, especially when they have another option that they already know how to use. But in the case of GO Launcher HD for Pad, it is actually similar to the stock launcher in terms of the way it's organized, so there shouldn't be much of a learning curve here at all for most users. The different options are easy to find; creating folders and adding icons to the home screen is very simple. Folders, in my opinion, are actually nicer in GO Launcher than they are in the stock Android launcher.
To create a folder, all you have to do is tap on the plus button which is in the top right corner of your screen and from there you will be presented with a few different options; at the top of your screenk off to the left, you should see a folders button — tap on that and from there just tap on folder, and select the different apps you'd like to have in that folder.
To add icons to your home screen, the process is pretty much the same. Just tap on that plus button, make sure you have apps selected in the top left corner, and then choose the screen you'd like to add the icons to; then just select the ones you want. It's a very simple process, which is good. You can also edit the dock from here.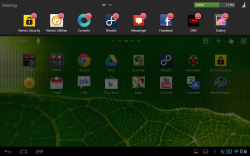 GO Launcher HD for Pad makes use of touch gestures, which is nice to see, but the problem is sometimes they don't work that well, and the custom ones don't seem to work at all. One gesture I do like is swiping down from the top of the screen with one finger to reveal a multitasking menu; this instantly reminded me of iOS. It even works the same way as the multitasking menu on iOS does! However, it does have one feature that iOS doesn't natively have and that's the ability to kill all of the running apps at once. This is a very useful feature that could improve the performance of your device, depending on your device and the apps you have.
Another nice feature of GO Launcher HD for Pad is the ability to theme the launcher. This means you can change the looks of your launcher by downloading any of the hundreds (thousands?) of themes available from Play Store, most of which are free. I am happy to see this feature implemented in GO Launcher… but I have yet to find a theme I really like.
GO Launcher HD for Pad also allows you to uninstall apps directly from the home screen or app drawer; the process is faster when compared to the process of uninstalling apps using the stock launcher. The process to uninstall apps in GO Launcher is very similar to the process on iOS — just tap and hold on an icon then tap the uninstall button.
One of the issues I have with GO Launcher HD for Pad is some icons can be blurry, which doesn't make too much sense since this app is supposed to be tablet optimized (which it is)… especially when you put HD in your title. This is an issue that must get fixed in a future update, but it isn't something that is going to make or break the launcher.
Conclusion and download link
GO Launcher HD for Pad is a great alternative to the stock launcher of Android, especially if your looking for a launcher that is fast, easy to use, and has a lot of familiar features packed into it. GO Launcher HD for Pad is definitely a good choice for anyone, and it's free so you don't really have anything to lose. This is definitely a worth while app, and I recommend it to anyone out there that is looking for a home screen replacement on their Android tablet.
Price: Free
Version reviewed: 1.18.1
Requires: Android 2.2 or higher and a tablet
Download size: 3.3 MB
GO Launcher HD for Pad on Play Store
Related Posts