Kingsoft Office is designed for those users who want need to view or edit documents on the go, whether it be on a tablet or smartphone. I can see this app being very useful for students, anyone in business, bloggers, and many other people. Users who need to access or edit their documents offline will really benefit from using this app. Users who are in search of a free, yet powerful, office suite for their smartphone or tablet are definitely going to love this app.
What is it and what does it do
Main Functionality
Kingsoft Office allows you to view, edit, and create office documents. Kingsoft Office includes a wide variety of features that make it a very powerful office suite. And the really great part about this app is you can access your documents from cloud storage services, too — Google Drive, Dropbox, and Box.net.
Kingsoft Office has word processor, presentations, and spreadsheet components and supports DOC, DOCX, PPT, PPTX, XLS, XLSX, and more document formats.
Pros
Allows users to view over 23 different file types, including but not limited to DOC, DOCX, PPT, PPTX, XLS, XLSX, PDF, and TXT
Allows users to edit office documents, namely DOC, DOCX, PPT, PPTX, XLS, XLSX
Allows users to save documents in a variety of formats, including DOC, DOCX, PPT, PPTX, XLS, XLSX
The word processor, presentations, and spreadsheet components most all the standard components we have come to expect in office apps such as text formatting, spell check, header, footer, support for images, charts, etc.
Excellent performance — rarely, if ever, lags or crashes

Note: Using Office documents, particularly editing them, is a CPU intensive task. If you have a low-end or mid-range Android device, Kingsoft Office may not work as well for you.

Has a simple-to-use interface that not only works well on smartphones but is very well optimized for tablets, too
You can either edit/access documents stored on your Android device or access files stored on cloud services such as Google Drive, Dropbox, and Box.net.
If the application quits unexpectedly, then Kingsoft Office will actually give you the option to recover unsaved documents
Has many more features, such as saving documents as PDF files from the word processor or spreadsheets, and document encryption
Has an international version that supports over 45 languages
Cons
Word processing is currently missing the option to add bullet points; oddly enough, bullets are supported in presentations and when you pull documents from Google Docs
Spell check is poor
In some cases when you are writing in a word document and the word you are typing carries on to the next line, only part of the word moves to the second line; this, however, is later corrected automatically by the app
Doesn't allow users to modify fonts
Presentations doesn't support animations nor does it show existing animations in existing PowerPoints
Discussion
First off, Kingsoft Office supports both smartphones and tablets. In particular, it does a very good job of supporting tablets which is nice to see seeing as many Android apps fail at that. The Kingsoft Office tablet interface looks great and is very simple to use. It really reminds me of the ribbon interface of Microsoft Office 2010 — even the colors match up.
As you can tell from my "Pros" list above, this office suite is packed full with features. It not only allows you to view various types of documents but also edit or create word documents, presentations, and spreadsheets… all without costing you a dime.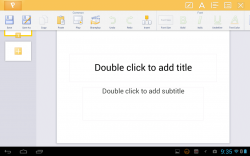 Using Kingsoft Office is as intuitive as can be — it is very much like Microsoft Office, in fact. Simply open a document to view or edit and type away, using the toolbar at the top to format text, add images, etc. You can even create new documents with Kingsoft Office. These are all the formats supported by Kingsoft Office:
Writer for Android
Create File Formats: .txt, .doc, and .docx
Open/Edit/Save File Formats: .txt, .doc, .docx, .wps, .wpt, .dot, .dotx, and .pdf (open only)

Spreadsheets for Android
Create File Formats: .xls and .xlsx
Open/Edit/Save File Formats: .xls, .xlsx, .xltx, .xlt, .et, .ett, .csv, and .pdf (open only)

Presentation for Android
Create File Formats: .ppt and .pptx
Open/Edit/Save File Formats: .ppt, .pptx, .pot, .potx, .pps, .ppsx, .dps, and .dpt.
Aside from documents stored locally on your device, Kingsoft Office also allows you to access your documents stored on cloud services such as Google Drive, Dropbox, and Box.net, which is a great feature to see implemented in Kingsoft Office and one that I will be using quite often.
Another nice feature in Kingsoft Office is its ability to recover unsaved documents if the application quits unexpectedly. No one wants to lose something they've been working on for hours due to an app error, right?
Kingsoft Office does a great job in terms of performance, rarely, if ever, freezing or crashing, which is something you need in an office program. When you are typing in a document, Kingsoft Office doesn't lag at all and keeps up with your typing, which is something that I expect from any office program, on any platform.
Although this is a great app, it does have its limitations as well. First of all, spell check doesn't work that well so if you are heavily dependent on spell check… you will be disappointed. (Maybe I should just learn how to spell?) Also, Kingsoft Office does not support any fonts, which is a limitation I personally can live with depending on what I am working on. However, it would be nice to see font supported added in future updates.
Conclusion and download link
Overall, Kingsoft Office is a great mobile office suite for both your Android tablet or smartphone. In fact, Kingsoft Office is by far the best mobile office suite I have ever used on either Android or iOS. (At the time of writing this review, there isn't a Kingsoft Office version available for iOS users, which is a disappointment since I use an iPhone, t00) If you're looking for a reliable, easy-to-use, powerful, and free office suite, Kingsoft Office is for you. This is probably the best free office suite app on Android.
Price: Free
Version reviewed: 5.1
Requires: Android 2.1 or higher
Download size: 12 MB
Kingsoft Office on Play Store | Kingsoft Office (International) on Play Store

Related Posts