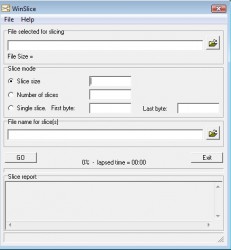 Have you ever needed to break up a large file into smaller, more manageable pieces? If so, then WinSlice is a utility that can help you out. Not only can it break programs and files into smaller pieces, but it can also re-assemble them into an exact duplicate of the original program.
WHAT IS IT AND WHAT DOES IT DO
Main Functionality
WinSlice is designed to help you cut large files into smaller, more manageable pieces. This can make it easier to transfer the file to others by way of email (or other programs that have file size limits). WinSlice gives you tons of options on how you want to break up the file, and can re-assemble them with no problem. The program creates a batch files to re-assemble the slices later on.
Pros
No installation required — is portable
Offers different ways to break up large files
No hassle re-assembly
Slicing process is pretty quick
Small program that is easy on your computer's resources
Cons
Discussion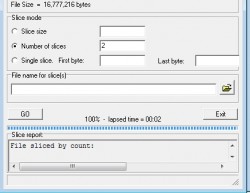 WinSlice is a small program that can help you break down large files into smaller, more manageable sizes. This is perfect for people who are looking to transfer files to others. Many times, when trying to send files to people, you will run into size limitations. The best way to avoid this problem is to break the larger file into smaller ones.
I have tried other programs like WinSlice in the past. For the most part, they worked well enough (this is a pretty easy process to mess up). However, I have run into programs that were complicated to use, or were not able to reassemble the program correctly. I had no such problem with WinSlice. It was easy to use and was successfully able to reassemble every file I broke up.
So why do I like WinSlice over other programs that do the same thing? For two reasons. First of all, there is no installation required. Once you download it from the site, you can start breaking up large files. Second, the program is extremely lightweight. The whole program is only 766KB. It is also very easy on your computer's resources. So this is not something that is going to hog a bunch of memory. For example, when breaking up an extremely large file, it took a bit of time to complete. I was able to move on to other tasks without noticing a drop in computer performance.
There are a few different ways that you can choose to break up your files. You can choose to break up files by slice size, by the number of slices, or slice out a single section by choosing a beginning and end. After the files have been broken up in the style that you have chosen, the program then creates a batch file that will be used to re-assemble the slices in working order.
CONCLUSION AND DOWNLOAD LINK
There is not really much more to say about WinSlice. The program is light, easy to use, and effective. If you are looking to break up larger files into smaller ones, you can't go wrong with WinSlice. Yes, there are other programs out there like it, but with how small this one is, and the fact that it does not require installation, why not give it a go.
Price: Free
Version reviewed: 1.0.0.1
Supported OS: Windows 2000 / XP / Vista / 7
Download size: 766K
VirusTotal malware scan results: 0/44
Is it portable? Yes
Related Posts