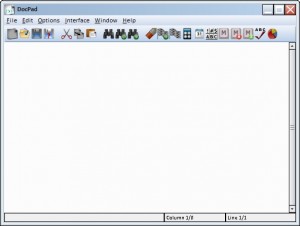 Looking for a program that is like Notepad but a little bit more robust? Well, DoctPad is just what you need. This is a free alternative to Notepad and performs all the same functions but offers more time-saving tools as well.
WHAT IS IT AND WHAT DOES IT DO
Main Functionality
The main function of DocPad is to allow for plain text editing just like NotePad. Unlike Notepad, however, DocPad also offers a number of tools that can save your time. With DocPad you can have customizable toolbars, use encoding conversion, case conversion, and much more!
Pros
Free alternative to your plain old Notepad
Offers many time-saving features, including (but not limited too) Statistics, Spell Checking, Print Preview, and more.
Light program that does not hog your system's memory
Cons
Unless you use Notepad a lot, all the extra features of DocPad may go unnoticed
Discussion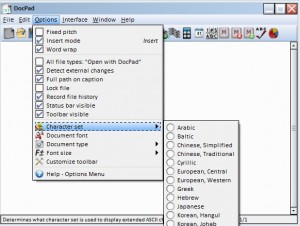 There are a lot of reasons to like DocPad. So, to start with, we are going to talk about what a lightweight program this is. Just like your original Notepad, DocPad is not going to hog your resources. It is easy to install and does not take up a lot of room.
Now, you may be saying: "Why use DocPad if it does the same thing as Notepad and their both lightweight?" Really, the true benefit of using DocPad is in the tools that it offers. For the most part, Notepad is pretty plain-Jane. It allows you to edit text, and that is about it. DocPad allows you to do that, but with a lot of time-saving tools that you just don't get with Notepad.
People who are going to get the most benefits out of DocPad are the ones who use Notepad on a regular basis. You know what Notepad offers, and you want more. So let's get into the different tools that DocPad offers: Print preview, search and replace, spell checking (works good), bookmarking, block indent or unindent, statistics, built-in calculator, character maps, calendar, file history, jump to line, keyboard macros, and a lot more.
It would take a while to sit here and go through all of the different features it offers, but you get the general idea. If you understood everything that I was talking about above (and it sounded helpful) then this is the program for you. If you are lost or don't see why it would be of any use to you, then I would suggest sticking with Notepad
CONCLUSION AND DOWNLOAD LINK
In general, when you download DocPad, you are looking for something that is more robust than Notepad. There are a ton of great features, and it can really make using a "note pad-like" program that much more enjoyable. It's free, lightweight, and easy to use. I recommend it to everyone who is looking for an alternative to Notepad. If that is not a program you use a lot, then you can probably skip on this one without feeling like you are missing out.
Price: Free
Version reviewed: 12.1
Supported OS: Windows 2000 / XP / Vista / 7
Download size: 5.56MB
VirusTotal malware scan results: 0/43
Is it portable? No
Related Posts