You know that public statement Apple was ordered to issue in UK newspapers, magazines, and on Apple's UK website about how Samsung did not copy the iPad; the one that a UK Appeals Court told Apple to reissue because of the cheeky way they presented it originally? Yeah, well, Apple has, as asked, posted a new apology on its website with the 48 hours deadline. However, they weren't about to let Samsung have the cake so easily.
You see when Apple used its required public statement to initially rag on Samsung, UK judges were furious as to how Apple ignored court orders. As such, in addition to forcing Apple to issue public apologies to Samsung, the Appeals Court told Apple it now has to include a three line statement on Apple's homepage (UK version only). Apple has indeed gone and done that. The three line statement on Apple's UK homepage reads:
On 25 October 2012, Apple Inc. published a statement on its UK website in relation to Samsung's Galaxy tablet computers. That statement was inaccurate and did not comply with the order of the Court of Appeal of England and Wales. The correct statement is at Samsung/Apple UK judgement.
However, they have ensured no one can read the statement without having to scroll down first.
You see what Apple did is they resized their Apple UK homepage so that the ad at the top is enlarged and takes up the whole screen of whomever visits the website. Apple used some semi-clever JavaScript to ensure that no mater what screen resolution your computer — or mobile device — is at, the Apple ad at the top will take up the whole screen. Thus for anyone to see the statement on Apple's UK homepage, they need to scroll down which most people are unlikely to do. The following screenshot (not created by me but verified to be accurate) demonstrates what I mean: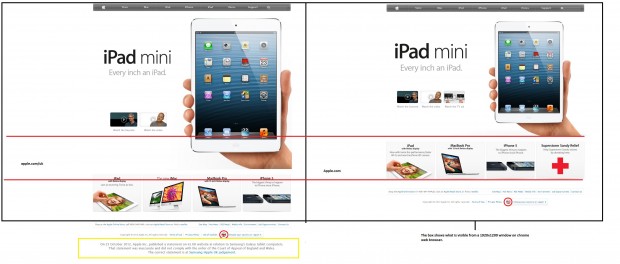 The left website in the screenshot above is Apple's UK homepage while the right website in the screenshot above is Apple's US homepage.
It should be mentioned that the behavior described above happens on other country-specific Apple websites, too, so it isn't unique to Apple UK. However, according to third-party reports, the JavaScript was added two days after Apple's appeal against this public statement was turned down. So could Apple have all along intended to make the above-mentioned homepage modifications and it is just coincidence that they were forced to publish a statement on their homepage during this time? Yeah, could be. Is it likely that it is a coincidence? I'll let you decide that.
Another juicy tidbit is some people are claiming that http://apple.com used to redirect to http://apple.com/uk/ (which is Apple's UK homepage, the location of the three line statement) when visiting the website from the UK… but http://apple.com no longer redirects to the UK homepage. However, this is an unconfirmed claim, with a few people saying that http://apple.com never actually ever redirected. I cannot confirm or deny this claim since I live in the United States.
Aside from the three line statement on their homepage, Apple has also modified the public statement they posted earlier which now reads:
Samsung / Apple UK judgment

On 9 July 2012 the High Court of Justice of England and Wales ruled that Samsung Electronic (UK) Limited's Galaxy Tablet Computers, namely the Galaxy Tab 10.1, Tab 8.9 and Tab 7.7 do not infringe Apple's Community registered design No. 0000181607-0001. A copy of the full judgment of the High Court is available from www.bailii.org/ew/cases/EWHC/Patents/2012/1882.html.

That Judgment has effect throughout the European Union and was upheld by the Court of Appeal of England and Wales on 18 October 2012. A copy of the Court of Appeal's judgment is available from www.bailii.org/ew/cases/EWCA/Civ/2012/1339.html. There is no injunction in respect of the Community registered design in force anywhere in Europe.
Take note how Apple's statement no longer makes mention of how the trial judge found Samsung's tablets to not be as cool as the iPad nor how Apple won against Samsung in other countries, such as Germany. A similar statement started appearing in UK newspapers and magazine over the past few days: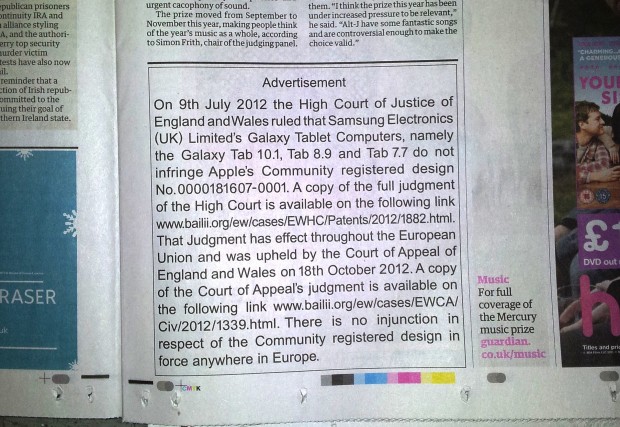 Oh, Apple. How you (sometimes) put a smile on my face with your corporate tactics. Then again, I'm not sure if any other company would have done it differently had they been in your shoes.
[via TNW, Ycombinator, Reddit]
Related Posts