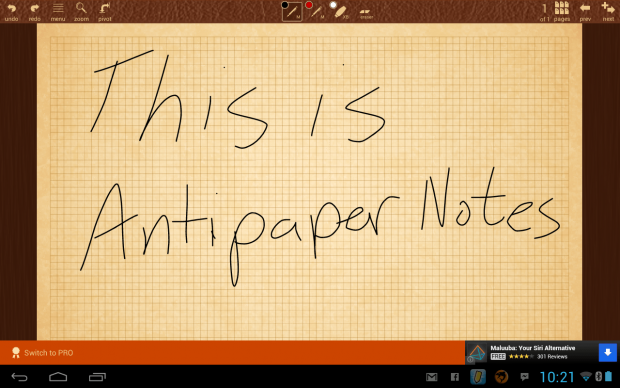 Users who need to take notes on the go but would prefer a digital method as opposed to paper and pencil need a notes app. Maybe it is because you don't want to carry around so much paper or maybe because you want to, so called, safe the trees. Whatever the case maybe, Antipaper Notes is an app you should look into.
What is it and what does it do
Main Functionality
The main purpose behind Antipaper Notes is to give tablet users a quick simple way to jot down notes, just as they might on a sheet of paper. It's free, unlike paper, and it works with your finger or with a stylus, if you want that feeling of writing with a pen or pencil. And since you'd be using your tablet, and saving your notes there, you wouldn't have to worry about losing your notes if you use this app… assuming, of course, you don't lose or break your tablet.
Take note Antipaper Notes is a tablet-specific app — it requires Android 3.0 and higher to run. However, with the release of Ice Cream Sandwich (Android 4.0) and Jelly Bean (4.x), there are smartphones that can also run Antipaper Notes.
Pros
Allows you to quickly take notes
Allows you to zoom in to write smaller
Allows you to share notes via email
Features black or red pen colors
Features more than one type of paper
Features undo and redo options that will work even if you close your notes
Features an eraser, so you can erase your mistakes instead of scribbling them out
Optimized for a tablet
Cons
When writing with a stylus, sometimes resting your hand on the screen can interfere with what you are writing
At times, the application can't follow what you are writing and lags behind
Not enough pen colors
No highlighter
The app can be buggy at times
Discussion
Antipaper Notes allows you to quickly jot down notes just as you might with a pen and a piece of paper. It does a very good job of this, and throughout my use of it on my tablet it did a very good job of allowing me to quickly jot down notes and ideas when I needed to. When using a stylus. however, I noticed even though Antipaper Notes is supposed to be able to deal with your hand resting on the screen, it doesn't do a very good job of this and sometimes mistakes your resting hand as the stylus.
When I first launched the app, and I started to write in it, I realized that my writing appeared in a huge size. It was only after reading the tutorial, which I like to skip sometimes, did I realize that there is a zoom function that zooms in on a certain part of the page and allows you to write on the lines (i.e. in smaller size text). This is a very nice feature to see, though it feels clunky at times; it does the job, but could see improvements.
Antipaper Notes comes with two ink colors, black and red. This is a nice feature to have, and it actually works well, but the problem is there aren't enough colors. I would like to see other colors added in the future, as opposed to black and red only. On a similar note, the app doesn't allow you to highlight things, except in white, but I really don't consider to be a "highlighter". I would like to see yellow, blue, and a few other highlighters added to the application, because what kind of note taking app would it be if you can't highlight anything.
While I was making notes, I made a few mistakes but I was definitely happy to see an undo and redo button which allowed me to simply undo my mistake(s). What makes these two options even better is they will still work even if you close your notes and reopen them — you can still undo changes and redo them after you close your notes and pick them up at a later time. Antipaper Notes also has an eraser, so if there is something minor you need to correct, you can make use of the eraser instead of the undo option.
If you want to completely clear a page, you can do that as well with one simple tap on the clear button, which is nice to see. I can see this feature being useful if you're notes gets a little too messy.
If you don't like lined paper, I've got good new for you. You're not stuck with using lined paper in Antipaper Notes, it actually includes a few different types of paper which you can switch between:
One thing I did find with this app that I find to be quite annoying is the fact that it crashes for no apparent reason quite often. This isn't acceptable at all. As a silver lining, the app relaunches itself immediately after a crash, so picking up where you left off isn't that hard. Hopefully these bugs will be worked out of Antipaper Notes in the near future.
Conclusion and download link
Overall, Antipaper Notes is a very good app if you want to use your tablet as your note taking device. I've tried a few other apps like it, and the difference is night and day for me — Antipaper Notes is the winner. Although it has its quirks, I'm sure they will get fixed with future updates and once these bugs are ironed out, it will be a very solid app that users are going to really want to use. Speaking from personal experience, even with its bugs, I recommend this app to anyone that needs to take notes on their tablet and doesn't want to type them out.
Price: Free
Version reviewed: 2.4.1
Requires: Android 3.0 or higher
Download size: 2.0 MB
Related Posts