Update: DiskDigger is no longer freeware. It now costs $15.
Ever had an "oh crap did I seriously delete that file" moment? Sometimes it is as easy as looking in the recycle bin and recover your posture. However for other times (which seem to happen more often than the former) when you cannot just restore the file from recycle bin, programs like DiskDigger become handy:
DiskDigger can recover files from any type of media that your computer can read. This includes USB flash drives, memory cards (SD, CompactFlash, Memory Stick, etc), and of course your hard drive. The types of files that it recovers include photos, videos, music, documents, and many other formats.

DiskDigger can even scan reformatted or badly formatted disks (disks to which Windows can't assign a drive letter), and even disks with bad sectors. It bypasses the Windows file system drivers and scans your disk directly. It has its own built-in support for the following file systems: FAT12 (floppy disks), FAT16 (older memory cards), FAT32 (newer memory cards and hard disks), NTFS (newer hard disks), and exFAT (Microsoft's new successor to FAT32).

DiskDigger is also very compact and portable. The entire program is a single executable file that you can run from anywhere. There's nothing to "install," and the program doesn't leave any trace of having been run.
At first when I read the above description I thought "too good to be true". However after using it, I agree DiskDigger is an extremely powerful, and fairly fast, file recovery/undelete tool.
This is the simple interface of DiskDigger: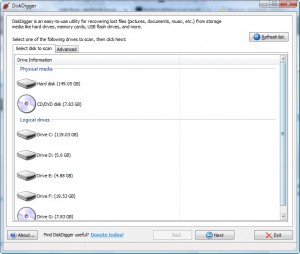 You just select the partition/hard drive/external media you want to undelete files from. You then choose which mode to use: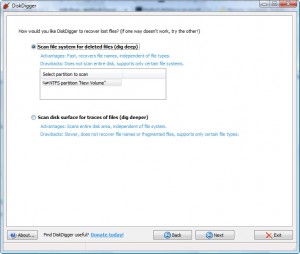 "dig deep" mode is done very quickly, files are found accurately and recovered successfully: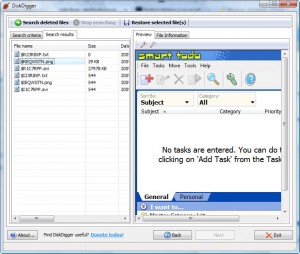 These are the "test files" I put on my partition to see if DiskDigger would find them. Since I only ever put three files on my newly formatted partition, DiskDigger found them all.
However "dig deep" mode is nothing special… many file undelete software have this (just reading from the MFT more or less). What makes this program so nice is the "dig deeper" mode. This "dig deeper" allows you to look for files every inch of your partition/hard drive/external media. Because of this thoroughness, it does take longer to find files (still very fast), and the file names are not displayed when found, but it finds many files and recovers them all very accurately (it finds files even after a format has occurred). When using "dip deeper" mode you are first asked what types of files you want to find: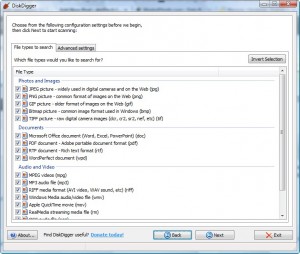 Unfortunately with "dig deeper" you are limited to only finding certain types of files (see above screenshot for more detail). However so many files are found you will learn to forgive the fact that you can't find things like .EXEs.
After you click "Next" the scan is conducted. The scan is not as fast as "dig deep" (took me about 2 minutes to scan a 20 GB partition with "dig deeper" as opposed to almost instant results with "dig deep") and filenames are not displayed but the results are much better: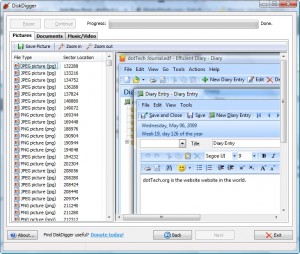 Compare the amount of files found with "dig deeper" to the amount of files with "dig deep" (screenshot way up above of "dig deep results) and you will understand why I find "dig deeper" mode to be so nice. Take note that via "dig deeper" mode I found files that were there before I formatted the partition.
Unfortunately, as I already mentioned, with "dig deeper" you are not shown filenames ("dig deeper" looks under the file system so being able to recover filenames is near impossible). However there is the ability to preview files so you can find out which files you are recovering before you recover them. Only for videos/audio this preview does not work but if the movie/audio is that important to you maybe recovering them all (then deleting the rest after you are done) is best. No program is perfect and this is a con you have to deal with for such great file recoverability.
In addition to finding all these files, the recovery rate is excellent – most every files I tried to recover worked fine after I recovered them. One problem, however, is the file size of the recovered files is sometimes inaccurate (my otherwise 300 KB video was recovered as 256 MB… it played just fine though).
Overall DiskDigger is an excellent software for people looking to recover their files. It works fast, finds files accurately, and recovers them successfully. Best of all, DiskDigger is standalone and portable.
You may download DiskDigger from the following link:
Related Posts