Podcasts revolutionized the way millions of people find entertainment, and a big piece of that was iTunes and iOS making the process of finding and enjoying your favorite podcasts as simple as possible. That hasn't always been the case for Android users, but with Podkicker you can enjoy podcasts the way they were intended, fast and simple. Whether you're looking for something to fill the time during your commute, or if you like to listen to them while you work, there's a million reasons to start listening to podcasts, and the easier they are to find the more enjoyable your experience will be.
WHAT IS IT AND WHAT DOES IT DO
Main Functionality
Podkicker seems like a simple podcast player on the surface, and that's great because that's exactly what you want when it comes to podcasts. The app provides users with access to over 110,000 podcasts, covering every possible genre imaginable. Podkicker has access to both audio and video podcasts, and users can choose to stream the podcasts or save them directly to their device. The podcast database is search-able by address, podmap, or by looking through recommendations provided by Podkicker directly. Users can also import podcast lists from OPML or Google Reader. Another handy feature is the ability to export your podcast lists to share with friends.
What makes podkicker different from other Android podcast players is the super simple functionality. Many other players try to implement too many features that users will simply never use, and as a result they are often slow and difficult to navigate. Podkicker made an effort to minimize selections and allow users to quickly get down to what's important, listening or watching podcasts.
Pros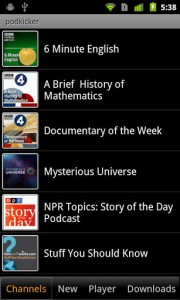 Very simple UI
Easy search function
Very accurate recommendation system
Huge podcast database
World Map search
Cons
Ads on the top of many screens
Streaming issues when returning to a podcast
More features available on the paid version
Discussion
When you start up Podkicker you're presented with a blank list, because you haven't had a chance to populate your New list yet. Users are presented with four tabs at the bottom of the screen: Channels, New, Player, and Downloads. At the top of the screen you are presented with a graphic that looks like a list with a plus sign, a refresh button, and a standard the circle options button.
The first option you should select is the options button, which generates a drop-down menu, from which users can select Options or About. Unless you're very interested in the app, let's go ahead an select Settings. Given how simple this app is, there is a surprisingly large number of options available. There is a backup option, allowing you to store your subscriptions directly to a MicroSD card, and a refresh on start-up option that forces the app to immediately search for updated podcasts. Farther down under Playlist Settings users can choose to have their podcasts automatically deleted after listening to it, clear the episode cache, or choose to upgrade to the paid version of the app.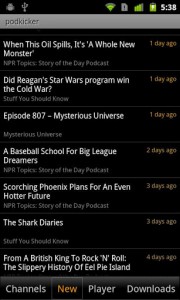 After getting your settings the way you like them, which is a quick and painless process, users should select the subscribe button. From here they can choose to subscribe directly to a podcast if they have the address, import podcast lists, or browse podcasts through the recommendation service. All of these worked flawlessly, and the recommendations page was especially astute at finding quality podcasts that matched my preferences, and the process only gets better as you add more podcasts from which it can learn. Below the recommendations button is something called the Podmap. This service allows you to browse a full map of the world with dots representing the location from which thousands of podcasts originate. Browse around the map to find podcasts from your favorite country, state, city, or even neighborhood.
After selecting some podcasts, users should go back to the channels list, select a podcast series, then select a podcast to listen to from the Player section. Users can choose to download the podcast at this point, or select stream to simply stream it directly to their device. This is where the one caveat for the app comes into play. Streaming a podcast is a great way to listen to your favorite programs without taking up too much space on your device, but if you have to stop listening and choose to return at another time the app will often start the entire podcast over instead of going back to where you left off. It's not 100-percent of the time, but it is often. The start up time for the stream can also seem very long on certain occasions, which can be annoying if you were wanting to quickly get back into your favorite podcast.
CONCLUSION AND DOWNLOAD LINK
Overall this is a great podcast app, and Podkicker should be on the list of must-have apps for anyone who enjoys podcasts or has considered checking them out. It's fast and easy to use with a fantastic selection and great recommendation service.
Price: Free
Version Reviewed: 1.1.8
Requires: Android 2.1 or higher
Download size: 303k
Related Posts