There are a ton of different programs out there that you can use to backup your computer. However, few of them offer you a backup file that comes in a standard ZIP format. Since the files are in standard ZIP format, you can actually restore your computer using any ZIP utility. That is what makes JaBack stand out from the crowd.
WHAT IS IT AND WHAT DOES IT DO
Main Functionality
JaBack offer all the typical options that your normal backup software would give you. This includes scheduling backup tasks (down to the very second), synchronization, and so on. JaBack stands out from the rest by saving your backup in the form of a ZIP file. You can than restore your computer with any ZIP utility. Since it is saved in ZIP format, transferring the backup to another location has never been easier.
Pros
Backup files for your PC are stored in ZIP Format
Use any ZIP utility to restore your PC
Auto backup important folders
Scheduling available for hassle free backups
Cons
Confusing interface (be sure to read the tips at the bottom of the program)
Most features are available with other backup programs
Discussion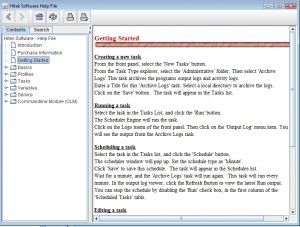 Automated backup programs for your PC are nothing new. They are about a dime a dozen. So what makes JaBack worth your time. Well, it wont be for everyone. However, the program does offer a very interesting feature that is sure to grab some people's attention.
The most notable thing about JaBack is how it saves your backup files. Most programs store your backup files in a format that only they can read. Some do use other formats, but very few of them are common place. JaBack, however, stores your backup files in a ZIP folder. So you can actually restore your computer with just about any program that can open a ZIP file.
Since you can store your files as a ZIP, you can easily transfer your backup files to any other remote location that you want to. For example, you could even send your backup files to your email (making your mail server be your backup storage location).
Of course, JaBack offers other common place features as well. For example, you can schedule auto backups so you can just set it and forget it. You can even have the program send you email notifications of task failures. These are just some of the basic features that JaBack offers that you may also find with other backup programs.
All that being said, there are a few things that JaBack does that is worse than other programs. My biggest issues was the interface. The program is not set up in an easy to understand format. Thus, some users may find the program itself to be confusing. It does offer you helpful tips to get your started, but I feel like after using so many backup programs with no problem, I should not have to read through tips on how to use there program. Really this is a small problem that can be overlooked but some new users may not want to take the time to understand this programs layout.
CONCLUSION AND DOWNLOAD LINK
If you got some spare time on your hands and you're looking for a new backup system for your computer, JaBack may be worth your time. The ability to save your backup files as a ZIP file is very helpful. Now if they could just rework their interface, they would have a pretty strong program on their hands.
Price: Free
Version reviewed: 9.17
Supported OS: Windows 2000 / XP / Vista / 7 / 8
Download size: 40MB
VirusTotal malware scan results: File too large to scan with VirusTotal
Is it portable? No
Related Posts