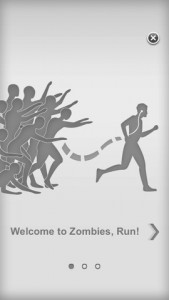 We don't review a lot of paid apps here at dotTech, preferring instead to focus on free apps. But even though it's a bit pricey, I have to highly recommend Zombies, Run!, developed by Six to Start. This innovative app blends fitness with a fun zombie tale, making the drudgery of running something you can really look forward to.
What is it and what does it do
Main Functionality
Zombies, Run! tracks your run time, run speed, and vital stats about your runs to push you to the next level. In addition to tracking your run, the app includes a built-in audio book that tells a compelling story where you are the star. Your goal: outrun the zombies, gather supplies, and learn what caused the outbreak of this zombie plague.
Pros
Engaging zombie story from writer Naomi Alderman with unique characters and a cool take on the classic zombie formula
Outstanding, emotional voice acting takes the story to the next level (and may even make you cry!)
23 "Story" missions, plus additional "supply" and "race" missions, as well as a "radio mode" that continues the story after missions are completed.
Ability to listen to music or silence between story snippets
Zombie chase mode, where zombies randomly chase you and you need to outrun them, giving you a boost of adrenaline during your run
Amazing support team, with a development team that is transparent about upcoming content and bug problems
Virtual "supplies" are collected on your run, which you can use to upgrade your settlement (a great incentive to keep running!)
Expanded game world includes websites, Twitter accounts, and emails to make the story feel totally immersive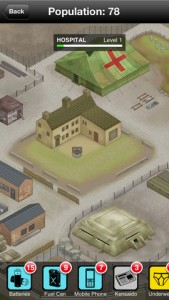 Cons
Pricey, both in terms of initial investment and in terms of bonus content
App works best in running environments where you have a strong GPS connection
Past versions of the app had an annoying "music skip" bug (this has been fixed)
Daily runners or long-distance runners may find that they run out of content in only a month or so
Discussion
Let me put my cards on the table: I hate running. I hated it in gym class when I was a kid, and I hated it as an adult. Running makes my lungs burn and my head ache. Or at least, it used to. I've been using Zombies, Run! to get fit since this summer started, and it has completely changed my opinion about running. I'm crazy about running now, and it's entirely thanks to this amazing app.
Zombies, Run! is part audiobook, part video game, and part fitness app. Pop in your earbuds, start the first mission, and you'll be instantly caught up in this creepy, immersive story. The sound design and voice acting do a lot to make the story come alive. Even if you're someone who runs regularly, you will find yourself running faster and longer with Zombies, Run!, simply by virtue of the adrenaline that the scary tale produces. I was so invested in the story, I was actually excited to start my run every day!
The coolest feature of Zombies, Run! is the "Zombie Chases" feature. Depending on how far and fast you run, you'll likely encounter 1-2 packs of zombies during the time between audio tracks on a given mission. You'll need to run full-out for up to a minute to outpace the horde. Don't let them catch you, or you'll regret it!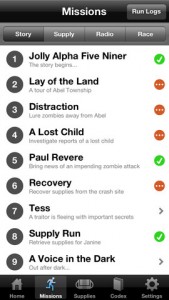 In addition to the story missions, there are also brand new "race" missions in Version 1.5. These missions are designed for runners who are performing 5, 10, or 20 K races. These races are included in the price of the app. However, if you want to unlock a second set of race missions (told from the point of view of another group of survivors), you need to shell out a few bucks.
The only downside to using Zombies, Run! is that when you run out of story missions, you'll be chomping at the bit for fresh content. Season 2 is in the works, but a release date has not yet been set.
Conclusion and download link
Whether you are a reluctant runner like me or an established run junkie looking for a new fitness app, Zombies, Run! is a breath of fresh air in an overcrowded running app market. If you have ever fantasized about being in your own zombie flick, the undead apocalypse is finally in your pocket. This high quality app is absolutely worth checking out if you like great storytelling and want to shed a few pounds.
Price: $7.99 (Frequently goes on sale for $2.99 to celebrate holidays or new updates, so chances are you won't have to wait long for the price to come down again)
Version reviewed: 1.5
Requires iPhone/iPod Touch/iPad, iOS 5.0 or later. (Note: Devs recommend use of their app with iPhone or iPod Touch over iPad)
Download size: 412 MB
Zombies, Run! on Apple App Store
Related Posts