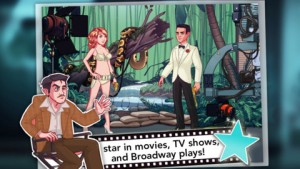 Ever wanted to become a famous actor? Now, you can have that fantasy unfold on Stardom: The A-List. Think of it as The Sims: Hollywood edition.
What is it and what does it do
Main Functionality
Stardom: The A-List lets you play as either a male or female character. Your goal in the game: go from a nobody working in a coffee shop to an A-List actor who is beloved by all. Along the way, you need to find an agent, go on dates, and decorate your apartment.
Pros
Great level of customization for characters
Beautiful, dynamic graphic elements
Progress is based as much on networking as it is on your mental abilities
Lets you escape your boring life for an exciting virtual one
Great story with engaging characters
Your choices impact your success as the game goes on
Frequently updated with new quests to keep the game from getting stale
Cons
If you want to play for an extended period of time, you need to buy stars or cash to keep your energy up
Parents may need to disable settings for buying in-game content if they want to control the spending of their kids using the app
Some quests take an hour to complete, making it hard to get invested in the game's story
In-game currency system is confusing, with many items that seem vastly overpriced
Discussion
Not surprisingly, there are a ton of iOS games in this "virtual life" genre out there on the App Store. Their quality ranges greatly, from the poorly-translated My Moviestar: Dream High, to the high-quality Stardom: The A-List. Unlike many other games in this genre, Stardom has a compelling story with engaging, well-rounded characters.
The game begins as you arrive in a new city, where you meet up with an old friend. Your dream is to become a famous actor, but you have no experience. In quick succession, however, you get a day job to support yourself, and are then lucky enough to bump into a TV production assistant who helps you to get your first job. From there, you can go on dates, make new friends, and build your reputation to become an in-demand talent.
One thing that makes Stardom: The A-List stand out from other games in the App Store that are also in this genre is the simple fact that Stardom makes you use your brain. While your success in competing games like My Moviestar: Dream High is often a matter of random chance, your success during the auditions in Stardom: The A-List come down to whether or not you can remember the lines correctly from the script you read back at your agent's office.
Stardom is a great casual game, but the need to either wait for your energy to replenish over time or buy in-game supplies to keep going does make it a bit hard to get invested in an extended gaming session. Also problematic is the game's currency system, with homes that are massively expensive. Additionally, there are some things can't be purchased with cash, but need to be purchased with stars instead. Why do you buy a house with cash, but need stars to buy a pet? It's baffling.
Conclusion and download link
While Stardom: The A-List seems to be targeted towards teens and tweens, the story is engaging enough to draw in older players as well. If you've ever wanted to play a Sims-style game with great dialogue and a cool Hollywood-style setting, this game is worth checking out!
Price: Free
Version reviewed: 2.1.2
Requires iPhone/iPad/iPod touch, iOS version 4.0 or higher
Download size: 118 MB
Stardom: The A-List on Apple App Store
Related Posts