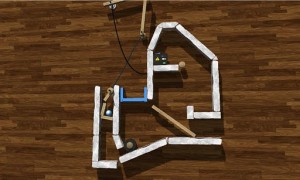 Apparatus is a unique puzzle game with one simple objective. This app is great for people who are looking for an extremely challenging puzzle game. It is also great for the creative types who enjoy building structures and messing around with physics.
What is it and what does it do
Main Functionality
The basic goal of this game is to get the blue ball into the blue basket. While that may sound simple, this game will test the limits of your problem-solving skills.
See the game in action in the following demo:
Pros
Simple and understandable goal
Ability to build complex structures
Utilizes basic laws of mechanics
Uses hammer and wrench to build structures
Community section
Gradually gets more difficult
Cons
Some levels are incredibly difficult
Not a lot of levels
Controls can be confusing
Discussion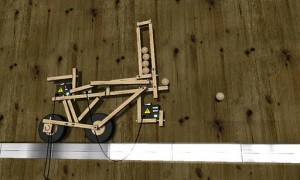 Apparatus is by far one of the most unique and challenging games available for Android. However, the overall concept of the game is incredibly simple. The object of the game is to simply get the blue ball into the blue basket. While this sounds easy, it can turn out to be incredibly difficult. If you decide that you don't like playing the traditional form of the game, then you can just do free play mode which will allow you to build anything you want to test the laws of physics.
You are supposed to get the ball into the basket by building structures. When building, you are given a wide variety of materials and tools. The basic tools you are given are a hammer and a wrench. You use these tools to attach and detach your materials. The materials you can use are primarily wood, but come in all different shapes and sizes. They can be simple boards, balls, weights, and even batteries. The batteries are typically used to provide power to your creations, which is frequently necessary to accomplish your goal.
The best part of building is that the app utilizes basic laws of physics and stays true to the expected mechanics. This makes it very easy to predict what you creations will do. Once you have something that you think will work, you press play and the cylce will run. It is in this stage that the controls can be rather confusing. However, they because much easier to maintain with experience.
Apparatus has a fantastic community section as well. This section will allow you to create your own level, and then upload it for others to use. This also works the other way so you can easily download other people's levels and try them out for yourself. You can then rate levels depending on the difficulty or how much fun they are.
Conclusion and download link
Overall, this game should pack plenty of fun to entertain you for quite some time. However, do not underestimate this game, as things can get extremely difficult in the higher levels. The best part is that this game has a lite version that is available free of charge. This will allow you to try it out before you decide to pay full price for the experience.
Price: $2.49
Version reviewed: 1.1
Requires: Android 1.6 and up
Download size: 10mb
Related Posts