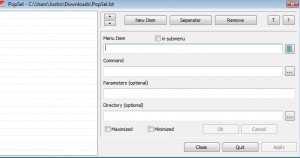 Have you ever wanted to create your own pop-up menu that is full of programs and documents you use the most? Well, thanks to PopSel, you can! No longer do you have to hunt for that program, file or link that you need. Simply put it in a pop-up menu and call on it when you need it.
WHAT IS IT AND WHAT DOES IT DO
Main Functionality
PopSel is a simple program that offers you the ability to make pop-up menus for the things you use the most. Create menus for programs, documents, website links, batch scripts, and more. These menus can then be opened by simply clicking on the menu icon, or you can incorporate these menus to open when you launch other programs (if supported).
In short, this is a program that is designed to make your computing experience easier.
Pros
Create pop-up menus for the things you use the most
Helps clear up your desktop by allowing you to delete icons
Can be used to launch more than just programs (web links, explorer windows, documents, etc.)
Can be set up to launch with other programs (if they support launching external programs)
PopSel is not a resource hog and does not remain in your memory
Cons
Learning how to set up menus can be confusing at first
Only one level of sub-menus are supported
Discussion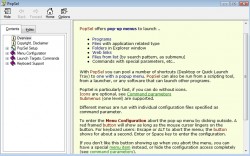 PopSel has been an extremely helpful program for me. This caught me off guard, because it did not seem like a program I was going to find very useful. However, being able to create a number of different pop-up menus really did come in handy.
Pretty much, you use PopSel to create pop-up menus to launch the things you use the most. No longer do you need a ton of different icons on your desktop. Simply put the programs, web links, documents, and other things you use most often in a pop-up menu. Then you can simply bring up this menu when you need it and choose the item you want to launch.
Another cool feature with PopSel is its ability to be integrated with other programs. If a program supports launching some kind of external program, you can set up PopSel to make this process just that much easier. This may be a feature that not everyone can use, but for some this could be the main reason they choose to download PopSel.
Of course, as with most programs, there are a few drawbacks. The good news is that these drawbacks are not really too huge thanks to the most recent update. The latest version of PopSel does a great job at creating sub-menus. However, if you used the version before 2.50, you may notice PopSel having a hard time handling sub-menus.
With the current version, there were only two problems I really ran into. First, creating your first pop-menu may take a bit of time to figure out. It is not overly challenging by any stretch, but for some it may be a little confusing. Second, the program only supports one level of sub-menus. For most this is enough, but I did find myself wanting to multilayer a few of my programs/links.
CONCLUSION AND DOWNLOAD LINK
PopSel is a great program for people who are sick of having a "junked up" desktop or for people who hate searching through their program list to find that certain app they want to run. PopSel is not perfect, but it helped me out more than it hurt me. Overall, I feel like most people will be able to get some kind of benefit from this program.
Price: Free
Version reviewed: 2.50
Supported OS: Windows 2000 / XP / Vista / 7
Download size: 85KB
VirusTotal malware scan results: 1/34
Is it portable? Yes
Related Posts